-- Demonstrates Industry's Most Cost-Effective Quadrupling of Bandwidth, with No New Cables, Drivers, Protocols, Connectors --
SAN FRANCISCO--The 1394 Trade Association has produced a new online video that describes in detail the benefits of the latest high speed version of IEEE1394 in aviation and industrial applications.

The new video was developed and narrated by Richard Mourn, one of the original designers of FireWire-based systems and a long time board member of the 1394 Trade Association. The video provides a comprehensive demonstration of IEEE1394 transporting video data at S1600 (1600 MBps) utilizing cameras from Sony and Point Grey, and measured with a FireWire bus analyzer from DAP Technologies.
In the first of the two part video, Mourn reviews the history and benefits of FireWire, focusing on its ability to provide bandwidth up to 4Gb/second using the same architecture and components that have made 1394 successful since its inception in the early 1990s. Unlike other standards, FireWire has reached the highest possible speeds without new cables, drivers, protocols and connectors, offering complete continuity in a proven, cost-effective data transfer capability over existing wires. "Because there is no need for new cables, protocols or drivers, 1394 has delivered the most cost-effective quadrupling of bandwidth ever to a broad range of advanced applications," he said.
The video illustrates a S1600 ecosystem demonstration. Devices include two IIDC (Industrial Instrumentation DC)-compliant cameras, a pair of 1394 Open Host Controller Interfaces (OHCI) and a 1.6 Gigabit/second FireSpy bus analyzer. Applications like robotics and machine vision can require multiple cameras providing 2.5Kbytes of data per isochronous cycle. FireWire can handle up to 8 cameras at 1.6 Gigabit/second and up to 16 at 3.2Gigabt/second bandwidth.
In the video, Mourn also reviews the test and measurement equipment required to assure system performance, and he discusses how 1394 works with compatible standards and specifications.
The 1394 Trade Association is a global organization dedicated to the advancement and enhancement of the IEEE 1394 standard. By the end of 2011, more than 2.25 billion FireWire ports had shipped on a wide range of computing, consumer electronics, industrial, storage and other systems. For more information visit www.1394ta.org
Featured Product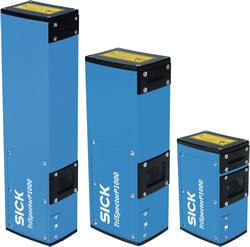 LiDAR (Light Detection and Ranging) is one of the most reliable methods for parts sensing in factory automation today. SICK has made this technology affordable and easy to use! Click on the video link below to learn about the TiM1xx LiDAR sensor and how it provides: - Area scanning LiDAR technology in a standard sensor package - 200-degree field of view and 3 meter sensing range allows for 169 square feet of area scanning - Compact size and light weight enables ease of deployment in "non-standard" type applications, like end-of-arm robotic tooling - Wide area scanning without having to mount a transmitter and receiver makes installation much easier - IO Link for easy configuration