Visitors to Elmo's booth can explore the high-level of synchronization between our multi-axis, network-based motion controllers, like the Gold Maestro that handles up to 100 axes.
Elmo Motion Control will present its compressive, high-performance motion control solution for the most challenging applications in Lab Automation, Material Handling and other industries at SLAS 2013 (booth 1507, January 13-15, Orlando FL.) and Automate 2013 (booth 926, January 21-24, Chicago, IL).

Elmo's solution of network controllers, servo drives, and design software, features advanced technology that meets the requirements of modern manufacturing system design and operation where high-performance, precision, throughput, speed, capacity, consistency, compliance, compact size, coordinated motion, and quality assurance are paramount.
Visitors to Elmo's booth can explore the high-level of synchronization between our multi-axis, network-based motion controllers, like the Gold Maestro that handles up to 100 axes; a wide selection of high-power-high-density servo drives; and the Elmo Application Studio (EAS) design software for fast and easy integration of any Elmo products into the system.
The Gold servo drives, to be displayed at SLAS and AUTOMATE, are an integral part of Elmo's motion control solution. They are standard compliant, supporting both CANopen and EtherCAT protocols, to provide product engineers with huge advantages like interoperability and future-proofing. They also offer outstanding servo performance, feature DS-402 profile modes including cyclic position velocity and current, meet any feedback, are STO safety standard compliant, expand up to 65kW, and are UL and IEC 61800 certified to operate up to 800VDC and 530VAC.
Visitors to the booth will also have a chance to learn about the benefits of the EAS tools. EAS is a top, integrated software environment for motion control solutions. It incorporates network configuration, advanced tuning, analysis, machine sequencing and system development under one umbrella. EAS completes Elmo's turnkey motion control solution by accelerating and simplifying the integration of any Elmo product into the system making the development of reliable, high-performance machines faster and more affordable.
Elmo combines its cutting edge technology with proven reliability and world-class automation expertise in designing and manufacturing motion control solutions that enable customers to build high-performance, durable machines that consistently deliver powerful performance with a competitive advantage.
Join us at SLAS and AUTOMATE to explore our products and solutions. For more information, please contact us at tel. +1 (603) 821-9979 or email: info-us@elmomc.com.
About Elmo Motion Control
Elmo designs and manufactures cutting-edge servo drives and network motion controllers that are one-stop solutions for any motion control technology. As a leading global company with over 25 years' experience, we bring our clients profitability and success. Due to our focus on performance, reliability, safety, and compliance, our solutions have been integrated in a wide variety of applications. www.elmomc.com
Featured Product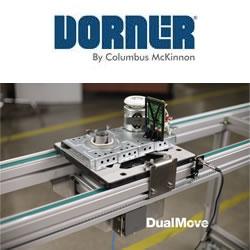 Dorner's 2200 Series Precision Move Pallet Systems are ideal for assembly automation. With features such as an innovative timing belt conveyor design and industry best pallet transfers, they get your product to the exact location, at the exact time and in the exact position it needs to be. They are now available with new options such as heavy load corner modules with 150 lb. capacity and 180 degree tight transfer corners for compact loops.