Its modular design allows users the ability to quickly assemble and disassemble the device for ease of use and transportation.
Parker Hannifin Corporation, the global leader in motion and control technologies, today announced that it will market its new exoskeleton device under the name Indego™. Parker recently announced an exclusive licensing agreement with Vanderbilt University for its exoskeleton technology, which allows individuals with severe spinal cord injury to walk and enhances rehabilitation for people who have suffered a stroke.

The agreement gives Parker exclusive rights to develop, manufacture and sell the device, subsequent to the appropriate regulatory clearances. Parker intends to invest in further development of the technology and establish a business unit targeting commercial launch of the exoskeleton device in 2014.
"We believe the name Indego captures the essence of the device, highlighting the primary benefit of enhanced independence," said Craig Maxwell , Vice President of Technology and Innovation for Parker. "The design objective of the team has always been to provide a solution that functions as a natural extension of the user. Indego's compact, lightweight and intuitive design creates a seamless interface between man and machine. These features will become increasingly important as we extend availability of the device beyond the clinical setting and into the personal mobility space."
Indego weighs just 27lbs which is nearly 50% lighter than other exoskeletons. The device also has a slim profile and no footplates or bulky backpack components, enabling a user to wear the device even while sitting in their own wheelchair. Its modular design allows users the ability to quickly assemble and disassemble the device for ease of use and transportation.
Two additional advantages from a rehabilitative perspective: the amount of robotic assistance adjusts automatically for users who have some muscle control in their legs and it is the only wearable exoskeleton that incorporates functional electrical stimulation, a proven rehabilitation technology.
Indego is currently being tested and refined through clinical research at the Shepherd Center in Atlanta, Georgia, one of the foremost rehabilitation hospitals in the United States. Patient and clinician feedback on the device has been overwhelmingly positive and the Center has concluded that the device has the most promise as a rehabilitation and home device.
http://Indego.parker.com
Featured Product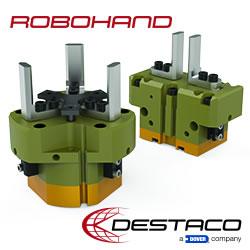 Automatically change end effector tooling quickly and easily with Destaco's Automatic Tool Changers. Designed with exceptional repeatability, high rigidity and load capacity, they are perfect for multiple tooling applications utilizing one robot. We offer different models and sizes to handle light-duty to heavy-duty applications. Our RQC/RTP Series provides a high level of flexibility with a configurable, modular design that accommodates up to four optional modular interfaces.