The LEGO® MINDSTORMS® Education EV3 platform is the third generation of LEGO Education robotics technology designed for classroom use. It is a full teaching solution developed with educators to actively engage students in a number of key curriculum areas such as computer science, science, technology, engineering, and math correlated to national standards.----- The EV3 platform includes customizable curriculum and digital workbooks; a hardware platform based on real-world robotics technology for engaging, hands-on activities; an intuitive software platform consisting of both programming and data-logging interface including 48 step-by-step tutorials; and extensive professional development courses.----- The LEGO MINDSTORMS Education EV3 platform is backward compatible with the previous MINDSTORMS Education NXT platform, ensuring that existing sensors, motors, and building elements can be reused. It is also possible to program NXT using the new EV3 software.
LAS VEGAS--Today, LEGO® Education announced the LEGO MINDSTORMS® Education EV3 platform, the next generation of robotics for the classroom, continuing 15 years of MINDSTORMS robotics technology for education. The EV3 platform was created based on feedback from more than 800 educators worldwide and provides relevant robotics curriculum and technology for teaching computer science, science, technology, engineering, and math through a hands-on experience with sensors, motors, programming, and the programmable EV3 Brick. Students can now build and program a fully functioning robot in a single 45-minute class period.

The platform includes customizable curriculum that is digitally delivered and installs directly into the LEGO Education MINDSTORMS programming software lobby. The built-in digital workbook can be used by students to capture their work as they progress through the lessons, making it easy for the teacher to follow students' progress and assess their work.
The EV3 platform includes Design Engineering Projects, a curriculum package with 30 hours of classroom instruction. The structure of the activities in the Design Engineering Projects curriculum follows the engineering design process used by scientists and engineers in many industries. Using videos of real-world robots as inspiration, the students are given a design brief that challenges them to develop, design, and share their solution. Throughout the process, students learn through combining and applying science, technology, and math disciplinary skills as they engineer their design solution. This structure is designed to help students develop the creative-thinking, problem-solving, teamwork, and communication skills required for success in school and beyond.
The LEGO MINDSTORMS Education EV3 Core Set comes with the EV3 Brick, rechargeable battery, sensors, motors, large brick selection, a new ball wheel, and building instructions. The intuitive software platform for EV3 is based on National Instruments LabVIEW™ graphical programming software, the same technology that powers some of the greatest innovations on the planet, and includes new data-logging capabilities that allow students to collect, graph, and calculate their data. Also available is the LEGO MINDSTORMS Education EV3 Expansion Set, which enables students to build larger-scale, more complex robots. For easy classroom management, both the base education set and the expansion set have storage bins and sorting trays.
LEGO MINDSTORMS Education EV3 is now available for preorder and will ship in the fall semester of 2013.
About LEGO Education
Since 1980, LEGO Education (LEGOeducation.us) has delivered hands-on, curriculum-based resources for teachers and students worldwide. LEGO Education believes a hands-on, minds-on approach helps students actively take ownership of the learning process and develop 21st-century skills such as creative thinking and problem solving through real-life, engaging experiences.
Featured Product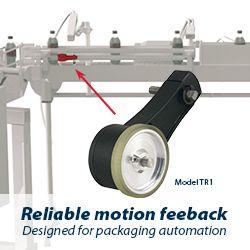 EPC is excited to announce our NEW online 3D Configurator. This new tool makes it even easier to configure EPC's products exactly how you need them for your application. The 3D Configurator interface is intuitive and works in any web browser for both desktop and mobile. It'll only take you a moment to learn your way around the program. Careful, though: it's so fun to play with, you may spend a whole afternoon on it!