LabVIEW users can now readily integrate Motoman robots into their production or quality control applications.
LabVIEW™ and LabVIEW and ROS-Industrial Support for Motoman RobotsROS-Industrial™ support is now available for Motoman® FS100 and DX100 controllers.

A new Yaskawa Motoman Robotics Library (YMRL) for LabVIEW 2012 facilitates the programming of Motoman robots into applications using the LabVIEW graphical interface. LabVIEW users can now readily integrate Motoman robots into their production or quality control applications.
Support for the ROS-Industrial framework has been expanded to include the FS100 controller. Researchers developing new robotics algorithms or applications can now adopt any Motoman robot into their work.
"Yaskawa Motoman is working to democratize robotics. Historically, the industry approach has been based on proprietary languages. The users were expected to know the robot OEM's language or learn it," says Erik Nieves, technology director. "We believe this has stunted the adoption of robotics into new markets. Instead, we continue to introduce new means to program our robots including RSLogix™, LabVIEW and ROS. These well-established programming frameworks are familiar to users in various markets and will accelerate the growth of robotics into new areas."
The multiple language approach can be seen performing a variety of new applications at Automate 2013.
About Yaskawa Motoman
Founded in 1989, the Motoman Robotics Division of Yaskawa America, Inc. is a leading robotics company in the Americas. With over 250,000 Motoman® robots installed globally, Yaskawa provides automation products and solutions for virtually every industry and robotic application; including arc welding, assembly, coating, dispensing, material handling, material cutting, material removal, packaging, palletizing and spot welding. For more information please visit our website or call 937.847.6200.
Featured Product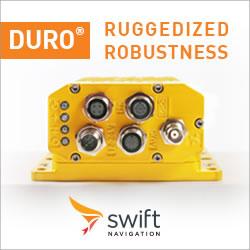 Duro® is a ruggedized version of Swift Navigation's Piksi® Multi RTK GNSS receiver. Built to be tough, Duro is designed for easy integration into existing equipment. This affordable, easy-to-deploy GNSS sensor delivers robust, centimeter-accurate positioning while protected against weather, moisture, vibration, dust, water immersion and the unexpected that can occur in outdoor long-term deployments.