Home Robot Business Expected to Grow More Than 20 Percent in 2013
BEDFORD, Mass.--iRobot Corp. (NASDAQ: IRBT), a leader in delivering robotic technology-based solutions, today announced its financial results for the fourth quarter and full year ended December 29, 2012.

"Our Home Robot business had a phenomenal year with revenue increasing 28 percent over 2011, but as expected, the decline in Defense & Security revenue resulted in lower total company revenue and profit for the year," said Colin Angle, chairman and chief executive officer of iRobot.
"2012 was a transformational year for our business, and as we enter 2013, we are a different company than we were a year ago. Our business performance over the next few years will be driven by our rapidly growing home technology business. Home Robots is expected to grow roughly 20 percent this year and comprise 90 percent of total company revenue. In addition, we have an emerging remote presence business and have stabilized our defense business."
*Revenue for the fourth quarter of 2012 was $100.7 million, compared with $130.8 million for the same quarter one year ago. Revenue for the full year 2012 was $436.2 million, compared with $465.5 million for the full year 2011.
*Net loss in the fourth quarter of 2012 was $5.9 million, compared with net income of $10.6 million in the fourth quarter of 2011. Net income for the full year 2012 was $17.3 million, compared with $40.2 million for the same period in 2011.
*Quarterly loss per share was ($0.21), compared with earnings per share of $0.38 in the fourth quarter last year. Full-year earnings per share were $0.61, compared with $1.44 last year. The Q4 and full year results include the negative impact of $0.22 and $0.27, respectively, from restructuring the Defense & Security business and the inclusion of Evolution Robotics, acquired on October 1, 2012.
*Adjusted EBITDA for the fourth quarter of 2012 was $1.0 million, compared with $21.3 million in the fourth quarter of 2011. Adjusted EBITDA for the full year 2012 was $52.5 million, compared with $73.0 million for the same period a year ago.
Business Highlights
*Full-year domestic Home Robot revenue growth of more than 40 percent, coupled with international revenue growth of 22 percent, drove a 28 percent year-over-year increase in full-year Home Robot revenue. International Home Robot revenue of $239 million comprised 67 percent of total Home Robot 2012 revenue.
*Closed the acquisition of Evolution Robotics (ER) on October 1, 2012. We are on schedule with our integration and ahead of schedule on our planned rollout of ER's Mint® floor sweeping robot to our international distributors.
*Received a $7 million order from a foreign government for PackBot® systems. International sales are expected to contribute roughly one-third of 2013 product revenue in our Defense & Security business unit.
*Received FDA approval for RP-VITA, the first self-navigating communications robot for use in hospitals.
*Our 2013 Home Robot expectations reflect continued strong growth domestically and continuing economic uncertainties in Europe.
Financial Expectations
Management provides the following expectations with respect to the year ending December 28, 2013 and first quarter ending March 30, 2013.
Fiscal Year 2013:
Revenue $480 - $490 million
Earnings Per Share $0.57 - $0.72
Adjusted EBITDA $46 - $52 million
Full-Year 2013 BU Revenue:
Home Robots $430 - $435 million
Defense & Security Robots $45 - $55 million
Q1 2013:
Revenue $98 - $102 million
Earnings Per Share $0.00 - $0.07
Adjusted EBITDA $4 - $6 million
Fourth-Quarter and Full-Year Conference Call
iRobot will host a conference call tomorrow at 8:30 a.m. ET to discuss its financial results for the fourth fiscal quarter and full year 2012, business outlook, and outlook for 2013 financial performance. Pertinent details include:
Date: Thursday, February 7, 2013
Time: 8:30 a.m. ET
Call-In Number: 847-619-6818
Passcode: 34160560
A live, audio broadcast of the conference call will also be available at http://investor.irobot.com/phoenix.zhtml?c=193096&p=irol-eventDetails&EventId=4897481. An archived version of the broadcast will be available on the same website shortly after the conclusion of the live event. A replay of the telephone conference call will be available through February 14, and can be accessed by dialing 630-652-3000, passcode 34160560#.
About iRobot Corp.
iRobot designs and builds robots that make a difference. The company's home robots help people find smarter ways to clean, and its defense & security robots protect those in harm's way. iRobot's consumer and military robots feature iRobot Aware® robot intelligence systems, proprietary technology incorporating advanced concepts in navigation, mobility, manipulation and artificial intelligence. For more information about iRobot, please visit www.irobot.com.
Featured Product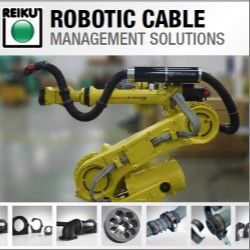 REIKU's Cable Saver™ Solution eliminates downtime, loss of revenue, expensive cable and hose replacement costs, maintenance labour costs. It's available in three sizes 36, 52 and 70 mm. All of the robots cables and hoses are protected when routed through the Cable Saver™ corrugated tubing. The Cable Saver™ uses a spring retraction system housed inside the Energy Tube™ to keep this service loop out of harms way in safe location at the rear of the Robot when not required. The Cable Saver™ is a COMPLETE solution for any make or model of robot. It installs quickly-on either side of the robot and has been tested to resist over 15 million repetitive cycles.