Raytheon Company and General Atomics Aeronautical Systems, Inc. are working together to develop a highly autonomous, unmanned electronic warfare capability based on equipping GA-ASI's Predator® B/MQ-9 Reaper Remotely Piloted Aircraft (RPA) with Raytheon's Miniature Air Launched Decoy (MALD®).
With the Ground Verification Test phase completed November 2012 at GA-ASI's Gray Butte Flight Operations Facility in Palmdale, Calif., integration of MALD® on the aircraft is estimated to conclude in 2013.

"This new offering provides unprecedented electronic warfare capability enabling remote, unmanned suppression of enemy air defenses," said Harry Schulte , vice president of Air Warfare Systems for Raytheon Missile Systems. "Integrating MALD weaponry on remotely piloted aircraft systems is integral to maintaining air superiority in today's and tomorrow's conflicts."
When employed, MALD confuses the target integrated air defense system (IADS), and then kinetic weaponry is selectively employed to permanently disable IADS nodes, dramatically increasing electronic attack persistence in the battlespace.
About MALD and MALD-J
MALD is a state-of-the-art, low-cost flight vehicle that is modular, air-launched and programmable. It weighs less than 300 pounds and has a range of approximately 500 nautical miles. MALD protects aircraft and their crews by duplicating the combat flight profiles and signatures of U.S. and allied aircraft. MALD-J adds radar-jamming capability to the basic MALD platform.
MALD confuses enemy air defenses by duplicating friendly aircraft flight profiles and radar signatures.
MALD-J encompasses all capabilities of MALD and adds jamming capabilities.
Raytheon began delivery of MALD-Js in the fall of 2012.
Source: http://www.raytheon.com/
Featured Product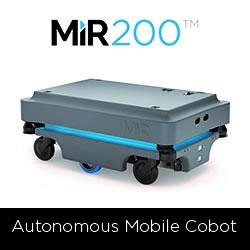 MiR200 is a safe, cost-effective mobile robot that automates your internal transportation. The robot optimizes workflows, freeing staff resources so you can increase productivity and reduce costs. MiR200 safely maneuvers around people and obstacles, through doorways and in and out of lifts. You can download CAD files of the building directly to the robot, or program it with the simple, web-based interface that requires no prior programming experience. With its fast implementation, the robots offers a fast ROI, with payback in as little as a year.