Previously considered bulky, expensive and complex to interpret, machine vision technology has undergone continuous improvements to become an integral part of quality control for industrial or manufacturing production lines. Advances in sensor, digital signal processors, field-programmable gate array and microprocessors, electronics and computing have considerably expanded the application scope for machine vision technology.
New analysis from Frost & Sullivan (http://www.testandmeasurement.frost.com), Analysis of the Global Industrial Machine Vision Market, finds that the market earned revenue of $4.50 billion in 2012 and estimates this to reach $6.75 billion in 2016. The study covers the segments of vision systems, industrial cameras, frame grabber, optics & illumination systems, and machine vision software.

If you are interested in more information on this research, please send an email to Jeannette Garcia , Corporate Communications, at jeannette.garcia@frost.com, with your full name, company name, job title, telephone number, company email address, company website, city, state and country.
"The simplicity and cost-effectiveness of current machine vision solutions have enabled it to penetrate a number of adjacent markets," said Frost & Sullivan Measurement & Instrumentation Program Manager Vijay Mathew .
In traditional markets, such as automotive, pharmaceutical and electronics, customers are employing machine vision in higher volume production lines and applications. Additionally, faster and flexible solutions that can be integrated with all factory automation systems are being sought.
Several customers are still unfamiliar with the technology, in non-traditional markets such as transportation, surveillance, biomedicine, security and agriculture. Nonetheless, adoption of this technology within these industries is on the rise.
The market made impressive progress since the economic downturn of 2009, when key end-user markets, such as automotive and semiconductors, had to slash their maintenance and inspection budgets. Although the market rebounded and steadied over the last couple of years, the intensifying sovereign debt crisis, along with austerity and cost-cutting measures are likely to push back the market.
Regardless, market participants are still optimistic about the overall business environment. Although 2012 was relatively slow, the market is expected to stabilize in 2013 and beyond.
"The camera segment has the most potential. With technological innovations, the lines between vision sensors, smart cameras, and PC-based machine vision systems will blur," said Mathew. "The integration of robotics in machine vision technology will continue to increase through partnerships, as well as mergers and acquisitions, giving the market significant scope for growth."
Analysis of the Global Industrial Machine Vision Market is part of the Test & Measurement Growth Partnership Service program. Frost & Sullivan's related research services include: World Nondestructive Test (NDT) Inspection Services Market, Material Testing Equipment Market, World Condition Monitoring Equipment Market, and Nondestructive Test Equipment Market. All research services included in subscriptions provide detailed market opportunities and industry trends evaluated following extensive interviews with market participants.
Source: http://www.frost.com/
Featured Product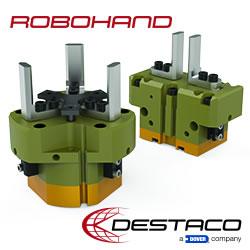 Automatically change end effector tooling quickly and easily with Destaco's Automatic Tool Changers. Designed with exceptional repeatability, high rigidity and load capacity, they are perfect for multiple tooling applications utilizing one robot. We offer different models and sizes to handle light-duty to heavy-duty applications. Our RQC/RTP Series provides a high level of flexibility with a configurable, modular design that accommodates up to four optional modular interfaces.