"Senior Solutions", this year's challenge, asked teams of nine to 14 year olds to develop innovative ways to help senior citizens maintain their independence and quality of life.
PICKERING, Ontario--More than 80 FIRST LEGO League teams brought their robots, inventions and innovations to the FIRST LEGO League (FLL) Championships held in Oshawa and Waterloo. "Senior Solutions", this year's challenge, asked teams of nine to 14 year olds to develop innovative ways to help senior citizens maintain their independence and quality of life.

Over 80 different innovations were proposed by teams to the judges at the two separate events held at UOIT in Oshawa (January 12) and at the University of Waterloo in Waterloo (January 13). Ideas included jewelry that could predict respiratory failure by sensing blood oxygen levels, to a shopping cart that would help seniors grab groceries off of the shelves at their local grocery store. One team went as far as to produce a fully-functioning chair that floated on a cushion of air with the intention of aiding mobility-restricted seniors to more easily traverse terrain, like the beach, that is difficult for traditional wheelchairs.
The second part of the FIRST competition included a robotics challenge. Students designed, programmed and tested a LEGO Mindstorms robot that is charged with completing, autonomously, as many themed tasks as possible in two and a half minutes on a 4'X8' competition table.
Finally teams were judged on "Core Values", which includes how well teams demonstrated and understood concepts such as teamwork, gracious professionalism and sharing with the community.
"These teams continue to amaze me every year! The ingenuity and creativity of these 9-14 year olds excites me because I know that our future is in good hands," said Dave Ellis, Director of FLL in Ontario.
"At SYNNEX, we are technologists at heart who believe in developing the next generation of IT professionals. This is why we sponsor the FIRST and FIRST LEGO League programs, as they are excellent ways for young students to develop their passion for and to build skills in their future career paths," said Kevin Murai, President and Chief Executive Officer of SYNNEX Corporation, the presenting sponsor of the FIRST LEGO League competition.
A full list of teams and their awards can be found on the FIRST Robotics Canada website.
Corporate sponsors: SYNNEX Corporation, Ontario Power Generation, University of Ontario Institute of Technology and Yves Landry Foundation played a key role in making these provincial events such a success.
About FIRST LEGO League
FIRST LEGO League is designed for students ages 9-14 and introduces students to real-world engineering challenges. Globally there are over 60 countries participating in the program. For more information on FLL and FIRST programs for other age groups visit www.firstroboticscanada.org.
About FIRST
FIRST (For Inspiration and Recognition of Science and Technology) is a non profit organization with the mission of inspiring young people to get excited about science, technology, engineering and math.
SYNNEX, the SYNNEX Logo and all other SYNNEX company, product and services names and slogans are trademarks or registered trademarks of SYNNEX Corporation. SYNNEX and the SYNNEX Logo Reg. U.S. Pat. & Tm. Off. Other names and marks are the property of their respective owners.
Featured Product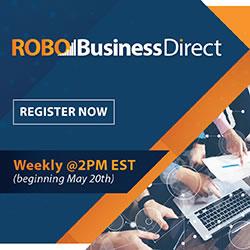 RoboBusiness Direct is built to foster robotics innovation in all its forms, expand robotics business opportunities, and build a community of like-minded problem solvers with the goal of driving the growth of robotics businesses. More than a webinar or virtual event, RoboBusiness Direct is an ongoing, integrated series of presentations and media coverage delivered by brightest minds from the leading robotics and automation companies from around the world - Nuro, FedEx, Lockheed Martin, Samsung, Siemens and more.