Aldo Zini, CEO of Aethon, will be a featured keynote speaker at Xconomy's April 11 forum in Silicon Valley and will discuss the role robotic technology plays in today's work environments
PITTSBURGH--Aldo Zini, CEO of Aethon, will deliver a featured keynote talk about Aethon's hospital intralogistics platform and how, through robotics and software automation, it is improving patient care and providing improved quality, safety and efficiency. With over 400 TUG® robots deployed in 130 hospitals and traveling over 1,000,000 miles, Aethon has led the way in the adoption of smart, autonomous mobile robots (AMRs).

The conference, "Robots Remake the Workplace," is an Xconomy forum highlighting the U.S. companies whose robots and robotic systems are changing the face of hospitals, clinics, farms, factories, offices, warehouses, and other work environments. Hosted during National Robotics Week by SRI International in the heart of Silicon Valley, this public, half-day event will bring together executives, engineers, entrepreneurs, investors, and other participants to explore the business opportunities being opened up by today's robotics revolution.
Mr. Zini comments, "It's important for us to have an open conversation about how robotics fit into our work environments today and into the future. It is our experience that TUG robots lead to greater employee satisfaction and morale along with improved organizational performance. Our hospital customers have been true thought leaders and have proven to themselves and their communities that robots can be a very positive addition."
The recent "60 Minutes" segment on robotics in the workplace has initiated a discussion about the role robots play in our economy. Aldo will be joined by Rethink Robotics founder and CTO Rodney Brooks; iRobot CEO Colin Angle; inTouch Health CEO Yulun Wang; and former Wired editor Chris Anderson, now CEO of 3D Robotics.
Aethon's intralogistics and tracking solutions provide automated robotic deliveries in a variety of hospital departments including pharmacy, laboratory, dietary and environmental services. Their MedEx software system is an extension of their expertise in pharmacy and tracks delivery of medications in real-time from the pharmacy to the nursing unit. It reduces time spent tracking down missing medications and allows for chain-of-custody traceability of medication deliveries.
For more information about Aethon go to www.aethon.com. For more information about the upcoming Xconomy forum (1:00 pm - 5:30 pm, April 11, 2013) go to http://xconomyforum59.eventbrite.com/
Featured Product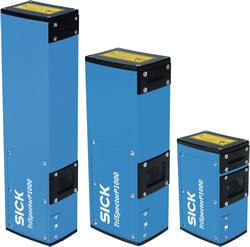 LiDAR (Light Detection and Ranging) is one of the most reliable methods for parts sensing in factory automation today. SICK has made this technology affordable and easy to use! Click on the video link below to learn about the TiM1xx LiDAR sensor and how it provides: - Area scanning LiDAR technology in a standard sensor package - 200-degree field of view and 3 meter sensing range allows for 169 square feet of area scanning - Compact size and light weight enables ease of deployment in "non-standard" type applications, like end-of-arm robotic tooling - Wide area scanning without having to mount a transmitter and receiver makes installation much easier - IO Link for easy configuration