Speakers from Boeing, General Mills, PepsiCo Headline Event Attendance Up 50% at Materials Technology Conference
March 6, 2013 (Bethesda, MD) Top U.S. manufactures showcased fast-growing

ultraviolet (UV) and electron beam (EB) processes at uv.eb WEST 2013 in
Redondo Beach, CA. With attendance up over 50% from the last event, UV and
EB technologies were on display, demonstrating how new materials offer
significant cost, environmental, energy and quality advantages for U.S.
industries transforming their processes. The event documented several
examples of UV and EB enabling new paradigms for process technologies in
printing, consumer packaging, composites, corrosion & weathering resistance
and field refinish/repair.
With a grant from the New York State Energy Research and Development
Authority (NYSERDA), our next event, uv.eb EAST, will be in Syracuse, New
York in partnership with the State University of New York College of
Environmental Science And Forestry (SUNY-ESF) Institute for Sustainable
Materials and Manufacturing , October 1-2, 2013.
Please visit www.radtech.org for more about UV and EB technology.
Featured Product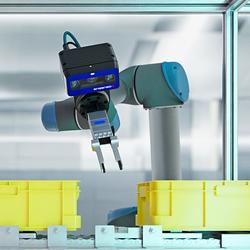 App Your Sensor®! What would smartphones be without apps? They would be mobile phones that can't do much more than make phone calls and sending SMS. Apps turn smartphones into intelligent assistants with any number of different tasks. Transferred into the world of image processing, this app-based approach transforms cameras and sensors into customised, smart vision sensors.