Applied Robotics' SmartComm™ for the Sigma line of Tool Changers takes Communications information in the plant to a higher level as the only Communications Module on the market to offer Diagnostics and support many major industrial buses including; DeviceNet, Ethernet IP, Profibus, CC-Link, Profinet, etc.
Glenville, New York - March 8,2113 - Applied Robotics Inc., a leading global manufacturer of robotic end-ofarm

tooling and connectivity solutions, today announced the introduction of its new Communications Module,
SmartComm™ for the Sigma line of Tool Changers. The SmartComm™ is the first of its kind in industrial
communications as it supports many major industrial buses (DeviceNet, Ethernet IP, Profibus, CC-Link, Profinet,
etc.) and is the only Communications Module to offer Diagnostics.
Module Diagnostics are available via webpage and advanced diagnostics via ARI Management Software.
Customers can schedule maintenance and run various reports. There are even specific diagnostics available for
the tool changer itself. Customers can view, track and download IO status, set and read Maintenance counter
functions, view timing of functions and even view and download Cycle Time statistics to pinpoint problems. The
ARI Management Software for SmartCommTM allows for testing and operation of the tool changer with no control
system. Customers can view performance graphs and download/export performance reports, troubleshoot
network connections and even quickly identify problems with downstream customer devices. Customers can see if
there is a problem with their other connected devices, independent of the Tool Changer. This is revolutionary in
Communications Modules.
"The future of plant automation is here with the SmartComm™. Our customers demand smarter and more flexible
communications to integrate with their wide range of existing bus networks," said Cliff Annis, Vice president of
Applied Robotics Inc. "SmartComm™ is ready to meet that demand."
Applied Robotics Inc., headquartered in Glenville, N.Y., is an ISO-9001 registered, employee-owned company
serving the world's automation market. Founded in 1983, Applied Robotics designs and manufactures end-or-arm
tooling and connectivity solutions intended to solve complex automation problems and improve efficiencies.
Serving a wide spectrum of customers and industries ranging from large Fortune 500 companies to small
privately-held businesses, the company's wrist-down solutions can be found in manufacturing, welding, assembly,
material removal and material handling applications throughout the United States, Canada, Pacific Rim, .Mexico,
South America, Australia and Europe, via Applied Robotics, Europe. More information can be found on the
company's website at www.arobotics.com.
Featured Product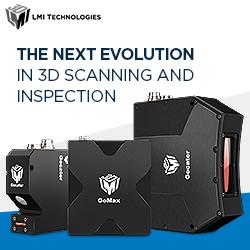 Every robot needs eyes to see, think, and do. Gocator® 3D smart sensors add powerful vision-guidance and inspection capability to industrial robots. You can use these sensors in a wide variety of factory automation applications. Pair them with scara, delta, and collaborative robots to create complete robotic solutions that deliver high-performance 3D results in vision-guidance, quality control inspection, and automated assembly with smart pick-and-place. Make your robot FactorySmart® with Gocator 3D smart sensors.