Q-Gen 2.0 is a lightweight, one man portable power solution that can easily support military missions in remote, hostile or austere environments.
Reston, VA- QinetiQ North America (QNA) today announced that the U.S. Marine Corps has selected Q-Gen™ 2.0, the newest version of QNA's 1kW, JP-8 fuel compatible, one-man portable generator, for further evaluation during the Low Rate Initial Production (LRIP) phase of the One Man-Portable Generator (1MPG) program.

"Our warfighters can't afford delays in their power-supplied systems on the battlefield or in remote, hostile environments," said QNA Technology Solutions Group President J.D. Crouch. "Q-Gen provides a reliable source of portable power that weighs less than forty pounds."
Q-Gen 2.0 is a lightweight, one man portable power solution that can easily support military missions in remote, hostile or austere environments. It has been proven to continuously operate on heavy fuels such as JP-8 and Jet A in a wide variety of operational conditions and ambient environments. Q-Gen 2.0 does not require an accelerant to start or operate on heavy fuels, and it automatically adjusts air flow and engine temperature in response to fluctuations in the environment or applied load.
Q-Gen 2.0 features significantly improved batteries and a more efficient vaporizer to enhance reliability and performance. This versatile power management system can support the mission needs of any military team requiring a readily available source of expeditionary power. Operating on JP-8 fuel, Q-Gen 2.0 provides 900W of continuous power for over three hours on a single tank of fuel and can be connected to other Q-Gen units to provide efficient and scalable energy solutions.
Operating as the U.S. component of QinetiQ Group plc's Global Products division, QNA's Technology Solutions Group is a world leader in technology solutions that save lives in defense, security and commercial environments. For more information, visit www.QinetiQ-NA.com and read our blog at techblog.qinetiq-na.com.
About QinetiQ North America
QinetiQ North America (QNA) is a subsidiary of QinetiQ Group plc, the FTSE250 company listed on the London Stock Exchange (LSE:QQ.L). Operating in North America, QNA delivers world-class technology, responsive services, and innovative solutions for global markets, focusing on U.S. government and commercial customers. Its engineers, scientists and other professionals deliver high quality products and services that leverage detailed mission knowledge and proven, reliable tools and methodologies to meet the rapidly changing demands of national defense, homeland security and information assurance customers. QNA is headquartered in McLean, Virginia. For more information visit www.QinetiQ-NA.com and join our conversation at www.facebook.com/qinetiqna.
Featured Product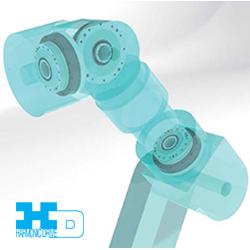 Harmonic Drive LLC, a leader in high precision motion control introduces new lightweight versions of select gearhead products. The new gearheads are ideal for designs where weight is a critical factor. Building on the success of Harmonic Drive LLCs current gear units, new lightweight versions were the next logical evolution of the CS/ SH product lines. With weight reductions of 20-30% without any reduction in torque ratings, the Lightweight (LW) gear units provide exceptional torque density.