Makers of Hoverfly Aerial Robots Cause Social Media Sensation After Golf Channel Demo for PGA Tour Arnold Palmer Invitational
ORLANDO, FL March 20, 2013

In midst of a recovering economy, a 7.7 percent unemployment rate and federal sequestration, a group of Central Florida entrepreneurs have come up with an idea on how to help government -and they want to start with the Federal Aviation Administration (FAA).
"The FAA like so many agencies is overworked and underfunded, and my company wants to relieve some of the burden through a strategic partnership," explains Al Ducharme, a founder of Hoverfly Technologies and associate professor in the College of Engineering and Computer Science at the University of Central Florida (UCF).
Hoverfly Technologies develops remotely piloted aerial robots that enable nearly hands-free flight and effortless video capture in the air. The company recently created a social media buzz after demonstrating the robot for the producers of the Golf Channel's "On the Range" show.
"The world's most versatile aerial robots are what we make. Enabling people to share their vision through incredible aerial photos and video is what we do," Ducharme says. "The film and entertainment industries have used our systems to capture everything from the Aztec ruins to Amazon rainforest tree canopies. We got a call from the Golf Channel, and they wanted to see the filming ability of our Hoverfly system at the Arnold Palmer Bay Hill Classic in Orlando."
On March 19, Ducharme planned and set up some line of sight shots in a closed area for the producers. The show takes viewers to the tournament practice range for an inside view on how players are preparing for this week's PGA Tour Arnold Palmer Invitational.
When a couple dozen journalists used Twitter and Vine to share images and footage of the Hoverfly demo, the response was deafening. Hoverfly received mentions from Titleist, Footjoy, the Golf Channel, Callaway's Chad Coleman; and coverage from USA Today, Business Insider and Slashdot, to name a few.
"Our company received coverage from bloggers and news outlets like USA Today, affirming what we already knew - there is significant industry demand, job creation and economic growth potential for commercial use of aerial robots," Ducharme says.
While thousands of filmmakers all over the world use aerial robots for commercial use, using them commercially here in the United States is prohibited by the FAA.
Hoverfly Technologies already has an existing flight school in which it trains its customers - including producers as well as first responders and law enforcement - on how to use its robotic systems. Now, the company wants to partner with the FAA to create a 'Film Flight School' certification program to focus on safety precautions and agency stipulations.
"We want to work with the FAA so that tens of thousands of Americans are allowed to use aerial robots for commercial hire. This can eventually equate to hundreds of millions of dollars of potential business," explains Ducharme, who has previously made contact with the FAA about compliance requirements. "There's a lot of talk about drones; our systems are not armed drones that the military uses. We're talking about line of sight, remotely piloted robots affixed with cameras that are operated on private property with the permission of the owners."
Hoverfly Technologies systems have previously been used on TV shows including the NBC Sports Network cable channel's Ultimate Fishing Experience and Animal Planet's Hillbilly Handfishin'.
Just last month, the FAA began soliciting proposals to create six drone test sites around the country, and Florida is one of the states vying for the opportunity.
"Hoverfly wants to offer an immediate solution to the FAA in form of this certificate program to allow people to use aerial robots commercially in closely watched conditions," Ducharme says. "We have the ability to collect significant data about the commercial use of drones, and we'd love to share it with the FAA."
The Golf Channel planned to air the footage of the Hoverfly Technologies demonstration Wednesday, March 20 at 8 p.m. on the "On the Range" show.
To learn more about Hoverfly Technologies, visit www.hoverflytech.com or call 407-349-7850.
About Hoverfly Technologies
Hoverfly Technologies designs and builds groundbreaking aerial robot systems. The company's film robots help photographers find innovative ways to produce aerial footage, and its industrial and public safety robots help protect people and property. Hoverfly's commercial and public safety robots feature Hovercore™, Hoverfly's proprietary flight control system technology incorporating advanced concepts in aerial flight stability, communications, and safety intelligence.
The Hoverfly ERISTA™ systems carry the latest generation of digital film cameras weighing up to 20lbs, and feature the industry's most advanced 3-axis gimbal stabilization system. The Hoverfly HELO™ public safety robot delivers both infrared and visible video, weighs 4.4lbs, and can be flown for 30 minutes. The HELO save lives by providing rapid situational awareness and is the only aerial robot available that integrates with next generation 9-1-1 systems in the US. Hoverfly inspires creativity, explores the earth, and protects people. Based in Winter Springs, Florida, USA, Hoverfly markets its products online and through a distribution network in over 30 countries. For more information about Hoverfly, please visit www.hoverflytech.com.
Featured Product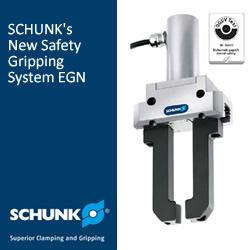 With the SLS, SOS, and STO functionalities, the SCHUNK EGN gripping system certified in accordance with DIN EN ISO 13849 enables safe human/machine collaboration. If the production process is interrupted by an emergency shut-off, the SCHUNK EGN goes into either a safely limited speed mode or a safe stop mode depending on the activated protection zone. In contrast to other solutions available on the market, the SCHUNK safety gripping system is continuously powered even in the safe operating stop so that the gripped parts are reliably held even without mechanical maintenance of gripping force. As soon as the protection zone is released, the gripper immediately switches back to the regular operating mode without the system having to be restarted.