The PHANTOM Vision brings integrated 1080p HD video and iOS camera control to DJI's wildly successful PHANTOM line
Austin, TX April 08, 2013

DJI, one of the world's leading developers and manufacturers in UAV systems, today announced the launch of the PHANTOM VisionTM, the industry's first professional grade, consumer-focused quadcopter with integrated HD camera. Based upon the popular PHANTOM platform, the PHANTOM Vision provides hobbyists and professional videographers alike the capability to capture full HD video and pictures right out of the box.
The PHANTOM Vision is the only quadcopter on the market to offer professional-level multi-rotor flight control technology, an intelligent GPS-based autopilot system, an integrated HD camera and an iOS app for full camera control. The PHANTOM Vision also comes with a remote control unit containing pre-programmed autopilot parameters allowing pilots to switch between different flight modes to achieve particular flight experiences. Also incorporated are safety parameters, such as a failsafe feature that will bring the PHANTOM Vision back to its take-off point and land itself if it loses signal from the remote control unit for any reason.
Features of PHANTOM Vision
*Integrated HD camera with tilt function
*14 megapixel still images and 1080p HD video
*Variable field of view
*Fully remote camera controlled via iOS app
*Vibration isolation
*Ready-to-fly right out of the box - no programming needed
*Stable and easy to fly with agile performance
Features of DJI iOS App
*Low latency video monitoring (downlink)
*Full remote camera control
*Wireless synchronization
*Social Media sharing
*First person viewing (FPV) functionality
"DJI continues to raise the bar in both UAV flight control systems and airframe technology," stated Colin Guinn, CEO of DJI North America. "The PHANTOM Vision provides for a completely new level of aerial photography for the average person, while also creating a new and exciting commercial opportunity for hundreds of thousands of digital photography professionals across the world."
The PHANTOM Vision will be available for purchase at the end of Q2 2013. Incredibly compelling pricing to be announced soon.
About DJI
DJI Innovations ("DJI") is a global leader in developing and manufacturing small unmanned aerial systems (sUAS) for commercial and recreational use. DJI was founded and is run by people with a passion for remote-controlled helicopters and experts in flight control technology. The company is dedicated to making aerial photography and videography more reliable and easier to use for professional photographers, cinematographers and hobbyists around the world.
DJI's global operations currently span North America, Europe and Asia, and its revolutionary products and solutions have been chosen by customers in over 50 countries; for applications in film, advertising, law enforcement, farming, and many other industries.
For more information, visit DJI online: http://www.dji-innovations.com
Follow us on Facebook: http://www.facebook.com/iflydji
Follow us on YouTube: http://www.youtube.com/user/iflydji
Featured Product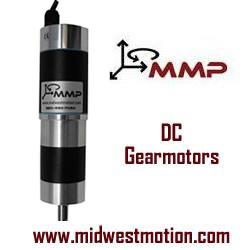 Midwest Motion Products, Inc. (MMP), is a well-established, healthy, & growing Family Owned Business, founded in 2001. MMP specializes in cost-effective standard DC Gearmotors, Motors, Controls, and ancillary equipment. Known world-wide for our "Lightning Fast" delivery capabilities, you can have a Standard Planetary or Right Angled DC Gearmotor BUILT and SHIPPED, often on the very same day you call. Offering Brushed and Brushless designs, with winding voltages ranging from 12 VDC to 120 VDC, we can deliver your "Robust & Reliable" samples within HOURS, instead of weeks, or even months.