Company Leverages Its BiCD 130nm Mixed-Signal Process Technology to Develop Six Highly Integrated Motor Control Drivers In Compact Footprints
SAN JOSE, Calif., April 8, 2013 -- Toshiba America Electronic Components, Inc. (TAEC)*, a committed leader that collaborates with technology companies to create breakthrough designs, today releases six of the company's next-generation stepping motor control drivers. The motor control drivers are designed using the Toshiba BiCD 130nm mixed-signal process technology, providing excellent Ron per unit area, to achieve highly integrated, low-power devices with the industry's highest voltage and current combination, (Parts TB6600HG and TB67H302HG )1 and compact footprints (Parts TB67S213FTAG, TB67S215FTAG, TB62261FTAG and TB62262FTAG). These devices are well suited for a variety of applications such as printers, ATMs, robotics, process control machines, and medical equipment.

"This series of motor control drivers provides many options in performance, packaging, and price for the development of current and emerging industrial applications," says Andrew Burt , vice president of the Analog and Imaging Business Unit, System LSI Group at TAEC. "They also prove the company's design expertise and technical innovation that continues to deliver products that meet and exceed customer expectations."
Today's printers, ATMs, and process control machines require high speed, high torque, and high precision for efficient long-term operation. The new Toshiba stepping motor control drivers satisfy these requirements through exceptional design, superior performance, and optimum packaging. For high-power applications, the TB6600HG and TB67H302HG devices combine the highest voltage and current combination in class and are rated 50V/5.0A*. They come in a heatsink mountable HZIP25 package. In addition, the TB6600HG has 1/16 micro-stepping capability that reduces acoustic noise and vibration. The TB67S213FTAG and TB67S215FTAG devices are rated 40V/2.5A* and are housed in a compact QFN-36 6mm x 6mm package for medium-power applications. They also reduce power consumption by 50 percent compared to previous generation devices. The TB62261FTAG and TB62262FTAG devices are rated 40V/1.5A* and also come in a QFN-36 6mm x 6mm package for low-power applications.
All of the above mentioned Toshiba motor control drivers have a mixed-decay mode, which improves the response characteristics of the motor drive current by changing the current path, for optimum motor driving. The QFN36 6mm x 6mm packaged devices are also about 30 percent smaller than surface mount devices of similar performance. As such, these motor control drivers can be integrated in motor control boards to reduce customer design costs.
Pricing and Availability
Sample pricing for the motor control devices begins at $1.50.
About TAEC
Through proven commitment, lasting relationships and advanced, reliable electronic components, Toshiba enables its customers to create market-leading designs. Toshiba is the heartbeat within product breakthroughs from OEMs, ODMs, CMs, VARs, distributors and fabless chip companies worldwide. A committed electronic components leader, Toshiba designs and manufactures high-quality flash memory-based storage solutions, solid state drives (SSDs), hard disk drives (HDDs), discrete devices, advanced materials, medical tubes, custom SoCs/ASICs, imaging products, microcontrollers and wireless components that make possible today's leading smartphones, tablets, MP3 players, cameras, medical devices, automotive electronics, enterprise solutions and more.
Toshiba America Electronic Components, Inc. is an independent operating company owned by Toshiba America, Inc., a subsidiary of Toshiba Corporation, Japan's largest semiconductor manufacturer and the world's fifth largest semiconductor manufacturer (Gartner, 2012 WW Semiconductor Preliminary Revenue Ranking, December, 2012). Toshiba Corporation was founded in 1875 and today has over 554 subsidiaries and affiliates, with 210,000 employees worldwide. Visit Toshiba's web site at www.toshiba.co.jp/index.htm.
Featured Product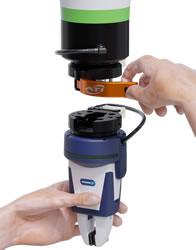 ATI Industrial Automation's MC-10 Manual Tool Changer provides a cost-effective solution for quickly changing tools by hand. Its compact yet robust design is optimized for collaborative robot applications. The ergonomic twist-collar locking mechanism ensures a secure attachment of the tool and easy manual operation with tactile feedback. This Manual Tool Changer can carry payloads of up to 22 lbs and includes multiple fail-safe features that resist vibration and prevent loosening. The MC-10 Manual Tool Changer has integrated air pass-through connections and options to connect electrical utilities if needed. ATI will feature the new MC-10 along with a variety of other robotic demonstrations and product displays at this year's IMTS show in Chicago (Booth #236417).