With the Simatic S7-1217C CPU, the Siemens Industry Automation Division is extending its product portfolio of compact, modular Simatic S7-1200 controllers in the high-end performance range. The entire Simatic S7-1200 controller range now benefits from firmware version 4.0 and its outstanding Profinet iDevice functionality.
With 125 kilobyte (KB) capacity, the work memory of the new Simatic S7-1217C CPU is 25 KB larger than the most powerful S7-1215C so far. Moreover, the new compact CPU comes with line driver ports to drive stepping motor controls at a frequency of up to 1 megahertz. Like its most powerful predecessor, the new Simatic S7-1217C CPU has a processing speed of 0.08 microseconds per operation. In addition to line driver I/Os, its features include 24 volt DC standard inputs and outputs, Profinet functionality with two ports, and two analog inputs and outputs. The device is designed as a DC/DC/DC variant.

The new firmware version 4.0 now enables all Simatic S7-1200 CPUs to operate as Profinet iDevices in addition to the already available option of operating as a Profinet controller. The new firmware now also equips Simatic S7-1200 compact controllers with a real-time tracing functionality for application diagnostics and debugging. This tracing functionality was previously available only in the most powerful controller systems. Another new feature of firmware version 4.0 is the formula & recipe management implemented in the CPU, providing the user with formula and recipe data in .csv format. Moreover, the new version offers enhanced access protection against unauthorized configuration modifications. Four authorization stages are now available for accessing the CPU.
These compact, modular Simatic S7-1200 controllers are used for controlling and monitoring tasks in mechanical and plant engineering. Their applications range from relay and contactor replacement, materials handling, pump control and energy management to distributed tasks in more complex automation networks.
Featured Product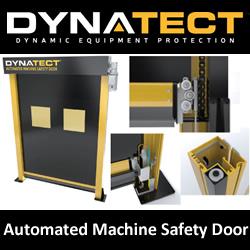 Dynatect's Gortite VF (Vertical Fabric) Automated Machine Safety Door is intended for automation and safe machine access to minimize cycle time and maximize production time. The automated roll-up door separates machines with hazardous operations from other processes, material handling equipment, and people. The Gortite VF Door contains typical machine/process generated hazards including light debris, fluid splatter/mist, and weld smoke/sparks/flash.