FARMINGTON HILLS, Mich., April 11, 2013

WHAT:
As part of the FIRST® (For Inspiration and Recognition of Science and Technology)
Robotics State Championship, Bosch will sponsor a VIP Reception and Pit Tour Parade on
Saturday, April 13. The FIRST State Championship is free and open to the public. VIP reception
attendance is by invitation only. All events are open to the media. The reception will include a brief
program featuring leaders (speaker list below) from government, industry and academia discussing
the importance of STEM (Science, Technology, Engineering and Math) education and how adult
mentored programs, such as FIRST Robotics, are helping the next generation achieve career
opportunities. Following the program, the attendees will break into eight groups and create a
parade through the team pit area. The reception attendees will celebrate the students as VIPs and
encourage them to continue to pursue STEM education. Good photo/video opportunities available
during the reception and Pit Tour Parade.
This year, Bosch is sponsoring 10 FIRST teams in Michigan and South Carolina. Since 2000,
Bosch has made financial contributions to this innovative program, and many Bosch associates
have volunteered countless hours to mentor FIRST students.
For details on this year's competition, visit www.firstinmichigan.org.
WHO:
Rick Snyder, Governor, State of Michigan
Charlie Ackerman, Senior Vice President, Human Resources, Robert Bosch LLC
Chuck Gaidica, Director, Meteorology, WDIV-TV 4
Jack Hu, Associate Dean for Academic Affairs, College of Engineering, University of Michigan
Tom Stephens, Board Member, FIRST Robotics
Dr. Satish Udpa, Executive Vice President for Administrative Services, Michigan State University
WHEN:
Saturday, April 13, at 9:30 a.m.
• Remarks begin at 10:20 a.m.
• Pit Tour Parade starts at 10:50 a.m. and ends at 11:30 a.m.
• Reception ends at noon
WHERE:
Eagle's Nest Suite
Eastern Michigan University Convocation Center
799 N. Hewitt Road
Ypsilanti, MI 48197
About Bosch and FIRST:
About Bosch:
The Bosch Group is a leading global supplier of technology and services, active in the fields of automotive technology, energy and building technology, industrial technology, and con­sumer goods. According to preliminary figures, more than 306,000 associates generated sales of 52.3 billion euros ($67.2 billion) in 2012. The Bosch Group comprises Robert Bosch GmbH and its more than 350 subsidiaries and regional companies in some 60 countries. If its sales and service partners are included, then Bosch is represented in roughly 150 countries. This worldwide development, manufacturing, and sales network is the foundation for further growth. Bosch spent some 4.5 billion euros ($5.8 billion) for research and development in 2012, and applied for over 4,700 patents worldwide.
The Bosch Group's products and services are designed to fascinate, and to improve the quality of life by providing solutions which are both innovative and beneficial. In this way, the company offers technology worldwide that is "Invented for life." Additional information is available online at www.bosch.com and www.bosch-press.com.
In the U.S., Canada and Mexico, the Bosch Group manufactures and markets automotive original equipment and aftermarket products, industrial drives and control technology, power tools, security and communication systems, packaging technology, thermotechnology, household appliances, solar energy, healthcare telemedicine and software solutions. Having established a regional presence in 1906, Bosch employs over 22,500 associates in more than 100 locations, with sales of $9.8 billion in fiscal year 2011. For more information, please visit www.boschusa.com, www.bosch.com.mx and www.bosch.ca.
About FIRST®
Accomplished inventor Dean Kamen founded FIRST® (For Inspiration and Recognition of Science and Technology) in 1989 to inspire an appreciation of science and technology in young people. Based in Manchester, N.H., FIRST designs accessible, innovative programs to build self-confidence, knowledge, and life skills while motivating young people to pursue opportunities in science, technology, and engineering. With support from over 200 of the Fortune 500 companies and more than $16 million in college scholarships, the not-for-profit organization hosts the FIRST® Robotics Competition (FRC® ) for students in Grades 9-12; FIRST® Tech Challenge (FTC® ) for Grades 7-12; FIRST® LEGO® League (FLL® ) for Grades 4-8; and Junior FIRST® LEGO® League (Jr.FLL®) for Grades K-3. Gracious Professionalism® is a way of doing things that encourages high-quality work, emphasizes the value of others, and respects individuals and the community. To learn more about FIRST, go to www.usfirst.org.
Featured Product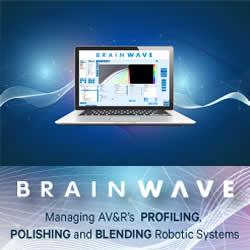 The AV&R team has developed a software for our robotic machines with the mission to make robotics accessible to everyone. This software is the glue which orchestrates the interaction between the system components in a single user-friendly interface. Comparing our machines to ourselves as humans, this software would be the control center of all faculties of the body, hence its name: BrainWave.