The Waterford School, a private college-preparatory school in Utah, won a multi-day regional robotics tournament in Las Vegas over the weekend, and will now advance to the Robotics World Championships in St. Louis April 24-27
Sandy, Utah April 10, 2013

On Saturday, April 6, the Waterford School's Robotics team earned first place in the 2013 Las Vegas FIRST Robotics Competition. FIRST Robotics is an international high school robotics program that fosters the application of science and technology in a uniquely cooperative competitive setting. The event was held April 4 - 6 at the Cashman Center and included 49 teams from across the United States as well as a number of international teams.
The Waterford Robotics team was formed four years ago, and since that time, the team has won three regional competitions and participated in the 2012 World Championships in St. Louis. The 21 team members spent hundreds of hours over the winter designing, prototyping and building this year's robot. The finished robot can shoot "Frisbee" type discs while climbing and hanging onto a pyramid structure.
Waterford's "Ravens Robotics" team entered the elimination round in the Las Vegas competition as the first seed, and then teamed up with alliance partners, D'Penguineers of Dos Pueblos, California and Vikings Robotics of Huntington Beach, California to sweep the elimination bracket. The victory earned the team an invitation to represent Waterford at the 2013 World Robotics Championships in St. Louis, April 24-27. The team was also presented with the Quality Award, sponsored by Motorola, in recognition of their robust and reliable design.
"This win was especially impressive since we were competing against some of the nation's best-known and most decorated robotics teams," said James Harris, Waterford Science Department Chair and Lead Mentor for the Ravens Robotics team. "My goal this year was to help my students creatively design and build a robot in a way that could be executed simply, with great attention to detail. I am especially proud of our Quality Award, which shows that the judges recognized this effort."
The Waterford Robotics Team is sponsored by Universal Industrial Sales, Sinclair Oil, Zions Bank, DOMO, Mixed Mango Designs, Platt Electric and Silver Reef Electric.
The Waterford School is a private, liberal arts college-preparatory school located in Sandy, Utah, for students in preschool through grade 12. For more information visit http://www.waterfordschool.org.
For more information about the FIRST Robotics Competition go to http://www.usfirst.org/roboticsprograms.
Featured Product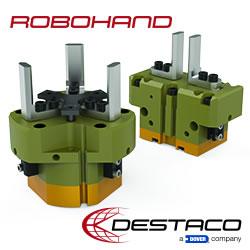 Automatically change end effector tooling quickly and easily with Destaco's Automatic Tool Changers. Designed with exceptional repeatability, high rigidity and load capacity, they are perfect for multiple tooling applications utilizing one robot. We offer different models and sizes to handle light-duty to heavy-duty applications. Our RQC/RTP Series provides a high level of flexibility with a configurable, modular design that accommodates up to four optional modular interfaces.