The Grandville High School RoboDawgs are taking over center court at the Rivertown Crossings Mall this weekend to show the public just how creative high school students can be.
Grandville,MI April 17, 2013

Last fall, Grandville Public Schools dedicated a new Robotics & Engineering Center on the South Campus of Grandville High School. In the eight months since then, competitive robotics teams based at the center have earned competition slots at the Michigan State VEX Championship, the World VEX Championship, the Michigan FIRST Robotics Championship, and the FIRST Robotics World Championship. This weekend, for the first time, the RoboDawgs will demonstrate all their award-winning 2013/2103 robots for the public.
The RoboDawgs have been at Rivertown Crossings before. They were at the mall last fall to take part in a weekend which showcased innovative educational programs. That weekend, more than 6,000 spectators stopped to play with the robots and collect one of the RoboDawgs famous "DawgTags."
There will be non-stop robot demonstrations on Saturday, April 20 from noon to 9pm and on Sunday, April 21 from noon to 5pm. Visitors will be able to interact with full size (five foot tall, 120 pound) student-built robots that throw basketballs and Frisbees up to 100 feet down court. They will be able to learn about and control VEX Robotics Competition robots that collect giant beanbags and score in elevated targets. Robots from the 2012 Lego League challenge,"Senior Solutions," will also be out for visitors to play with. The Grandville High School RoboDawgs have been building competitive robots since 1998, and they will be giving out special "DawgTags" throughout the weekend which commemorate the team's 15th anniversary.
The RoboDawgs will also be talking with visitors interested in starting new educational robotics teams. The Grandville program has had a hand in starting more than 50 robotics teams over the past 15 years, and they helped start several more over the last year. The captains of Grandville's three FIRST robotics teams (Teddy Tran, Jackson Bargenquast, Frank Dara, Mike Hepfer, Grason Cheydleur, and Clark Fischer) will all be on hand to share tips on working with new teams.
Featured Product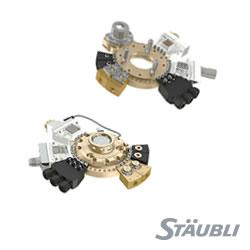 TX2 robots: redefining performance by offering collaborative safety and high performance in a single machine. These pioneering robots can be used in all areas, including sensitive and restrictive environments, thanks to their unique features. Safety functions are easy and inexpensive to implement. They allow a higher level of interactions between robots and human operators, while still guaranteeing protection of your people, production and investment.