Using their automation solutions in such diverse applications as assembly, packaging, and labeling.
Southington, Ct- April 22, 2013, Clear Automation , a leading engineering integrator of robotic and machine vision systems, today announced it has received FANUC Robotics' award for Outstanding Sales Growth for 2012.

Clear Automation has been an Authorized System Integrator of FANUC robots for 5 years, using their automation solutions in such diverse applications as assembly, packaging, and labeling. These unique solutions are often used in the manufacture of personal care products, medical devices, electronics, and general industry. Systems range from single cells to turnkey production lines. One such solution is a robotic loader/unloader of a blister pack machine. See the video here. If you need to speed up a process or save labor by automating, please contact the company at 860-621-2955 or visit the company's website at www.clearautomation.com.
FANUC Robotics America manufactures industrial robots for a wide range of applications including arc and spot welding, material handling (machine tending, picking, packing, palletizing), material removal, assembly, paint finishing and dispensing.More information on FANUC Robotics is available at www.fanucrobotics.com.
Clear Automation and the Clear Automation logo are trademarks of Clear Automation. All trade names are either trademarks or registered trademarks of their respective holders.
Featured Product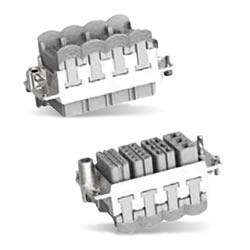 TE Connectivity's HDC Dynamic Module integrates the Dynamic series flexible signal and power solutions and the HDC Heavy Duty Connector series to form a solution of harsh environment connectors. TE's HDC Dynamic Module offers the top features of the two series. It uses the contact concept of the Dynamic series, with its proven performance in industrial uses and its cost effectiveness compared to legacy cutting contacts. The HDC connectors make the module a reliable solution for harsh environments. TE's HDC Dynamic Module supports 2A/32V to 40A/300V performance and 3 positions to 48 positions.