ABB robots have been used in a variety of manufacturing applications to improve equipment quality, lower costs and meet production schedules
AUBURN HILLS, Mich. - The ABB Robotics business unit is highlighting products, systems and technology designed to improve the quality and cost of manufactured products used in the oil and gas industry at the Offshore Technology Conference (OTC), May 6-9, 2013, at Reliant Park in Houston (Booth #3917). ABB robots have been utilized in the facilities of a variety of oil and gas industry equipment manufacturers for applications including material removal, machine tending, welding, cutting and assembly. Specific robotic functions range from the deburring of drill pipe, and the packing of shape charge product used in well completion tools, to polishing ball valves, and providing critical welds on blowout preventers (BOPs). The precision, repeatability and 24/7 endurance of ABB robots help suppliers who manufacture products for both above- and below-ground/sea environments reduce costs, improve product reliability and meet the most aggressive production demands.

The primary ABB Robotics demo at OTC is a machining cell featuring an ABB IRB 2600 robot tending an Okuma Genos L200E-M lathe, utilizing ABB Integrated Vision with a Cognex In-Sight 5100 Camera to locate the part for pickup. The simulation shows the speed and accuracy in which the robot moves a small pre-machined valve body in and out of the machining center. Enabled by ABB's IRC5 Controller with QuickMove™ technology, the IRB 2600 completes the process up to 30% faster than comparable competitive robot models. The system also includes the new PC-based RobotStudio Machine Tending PowerPac and the new controller-based RobotWare Machine Tending software, providing significantly increased ease of programming and operation.
"A prime feature of the Machine Tending PowerPac software is the built-in support that allows robot programming to be done in a 3-D virtual environment on a PC, in or out of the office, without effecting production," said Terry Crunk, machine tending specialist, ABB Robotics. "It makes the life of a programmer a lot less stressful, because a crash in the virtual world is a two minute fix, while a crash in real time is going to be very costly, as well as very time consuming."
The list of the current applications in which ABB robots are used in oil and gas industry equipment manufacturing includes:
· Welding, deburring, assembly, painting, inspection and machine tending of tubular and valve components;
· Thermal spraying and cladding;
· Tool component hardfacing;
· Traceability of parts through part marking;
· Surface finishing;
· Packing petroleum containers;
· Bag Palletizing of bagged bulk powder product additives used in mineral and water exploration applications
About ABB
ABB is a leader in power and automation technologies that enable utility and industry customers to improve their performance while lowering environmental impact. The ABB Group of companies operates in around 100 countries and employs about 145,000 people.
About ABB Robotics
ABB Robotics (www.abb.com/robotics) is a leading supplier of industrial robots - also providing robot software, peripheral equipment, modular manufacturing cells and service for tasks such as welding, handling, assembly, painting and finishing, picking, packing, palletizing and machine tending. Key markets include automotive, plastics, metal fabrication, foundry, electronics, machine tools, pharmaceutical and food and beverage industries. A strong solutions focus helps manufacturers improve productivity, product quality and worker safety. ABB has installed more than 200,000 robots worldwide.
Featured Product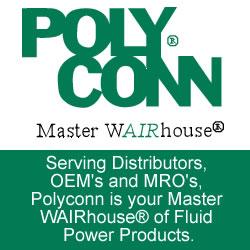 We can produce pneumatic hose and other pneumatic products to match your exact specifications. Our proficient engineering and quality management, coupled with outstanding customer service means Polyconn delivers high quality pneumatic components at competitive prices. Place your order or contact Polyconn for more information on our pneumatic hoses, pneumatic manifolds, Duratec® Pipe or any of our other top quality pneumatic products and components.