Position sensors allow humanoid robot to move and respond like a child.
Southington, CT May 08, 2013

Motion experts at The Baumer Group began working closely with scholars from the Artificial Intelligence Laboratory (AI Lab) at the University of Zurich In June of 2012 to design and create the first humanoid robot that moves, acts and responds like a human being. Nine months later, "Roboy" was born and introduced to the world at Robots on Tour in Zurich, Switzerland, on March 8, 2013.
Standing at just over 4 feet tall, "Roboy" resembles a young boy. His physique approximates the body of an 8-year-old child. His movements are smooth and flowing, like human movement. His programming allows him to have touch sensitivity and face recognition.
Roboy's movements are patterned on those of humans. Classic robots have servomotors installed directly in their joints, a design that makes them move in a stiff, jerky manner. Roboy, however, features tendon-controlled drive technology where joints are manipulated using plastic tendons that join the "bones" of the artificial skeleton together. Electric motors stretch and contract each tendon, imitating the smooth, controlled muscle movement working in the human body.
To simulate the human locomotor system, Roboy's project team of scientists and industry experts designed the robot's internal motion system using more than 100 analog sensors from Baumer. These high-precision, extremely compact sensors provide position feedback, determining and communicating the exact location of the robot's movable body parts. With this information, Roboy's computer brain can direct and control the activity of the electric motors that stimulate muscle movement.
Baumer's sophisticated, 6 mm tall capacitive sensors make it possible to shake hands with Roboy. Because these sensors are designed to detect fluid levels, they can easily sense the water content in a human hand. When a person stands near Roboy and reaches out a hand in greeting, the capacitive sensor located in Roboy's palm detects the water content in the human hand and sends a message back to the robot's computer brain that a handshake is imminent. The brain then alerts Roboy to respond appropriately by clasping his human partner's hand.
"A humanoid robot is certainly not an ordinary application for our sensors," says Sascha Schmid, product market manager, sensor solutions at Baumer. "The Roboy project is, however, an excellent example of the numerous and special sensor solutions that Baumer can offer."
For more information on Roboy, go to http://www.roboy.org and http://www.robotsontour.com/en. Also, for an entertaining look at Roboy playing around, visit http://youtu.be/U6g0iWuADL8.
The Baumer Group is an international leading manufacturer and developer of sensors, encoders, measuring instruments and components for automated image-processing. Baumer combines innovative technology and customer-oriented service into intelligent solutions for factory and process automation and offers a uniquely wide range of related products and technologies. With about 2,500 employees and 36 subsidiaries and in 18 countries, the family-owned company is always close to the customer. Industrial clients in many sectors gain vital advantages and measurable added value from the worldwide consistency of Baumer's high quality standards and its considerable innovative potential. For further information, visit http://www.baumer.com, http://www.facebook.com/baumergroup, or http://www.youtube.com/baumergroup on the internet.
Featured Product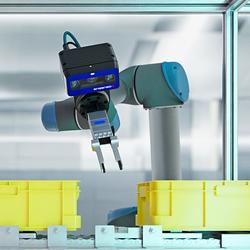 App Your Sensor®! What would smartphones be without apps? They would be mobile phones that can't do much more than make phone calls and sending SMS. Apps turn smartphones into intelligent assistants with any number of different tasks. Transferred into the world of image processing, this app-based approach transforms cameras and sensors into customised, smart vision sensors.