SkyRanger is ideally suited for both land and maritime military use
Canada's Aeryon Labs has introduced Aeryon SkyRanger, a quadrotor UAS that boasts increased flight time, higher wind tolerance and a new fast-deployment design over the older Scout model.

The Scout has been on the market since 2009 and has seen a wide variety of uses, from guiding a supply ship through icy seas to Nome, Alaska, to aiding Libyan rebels in the fight against Moammar Gadhafi.
With SkyRanger, Aeryon is "taking all the lessons learned from the Scout program and taking each of the product characteristics to the next level of performance," says Ian McDonald, the vice president of product and marketing for the Waterloo, Ontario-based company.
The system is aimed at portability. It features a new folding design that fits into a backpack. Once deployed, the system can fly for up to 50 minutes in sustained winds of up to 40 mph and gusts of up to 55 mph. It can stream high-definition video to the ground, including sending color and infrared video simultaneously, McDonald says.
The increased endurance is derived from a more powerful battery coupled with a weight-saving design.
"SkyRanger is ideally suited for both land and maritime military use including covert ISR, convoy and compound security, and ship-boarding operations," the company says in a press release.
The company is initially aiming the $100,000 system (depending on configuration) at the military and government market, with the lower-cost Scout remaining in the line for other uses. The systems use common software and Scout payloads can be used on the SkyRanger as well.
"The Aeryon Scout remains an important part of Aeryon's product line - a high performance system at an attractive price point for public safety and commercial customers," says Dave Kroetsch, Aeryon Labs' president.
Featured Product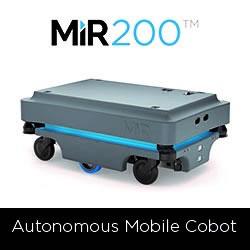 MiR200 is a safe, cost-effective mobile robot that automates your internal transportation. The robot optimizes workflows, freeing staff resources so you can increase productivity and reduce costs. MiR200 safely maneuvers around people and obstacles, through doorways and in and out of lifts. You can download CAD files of the building directly to the robot, or program it with the simple, web-based interface that requires no prior programming experience. With its fast implementation, the robots offers a fast ROI, with payback in as little as a year.