Robotic surgeons trade dry lab models, cadavers, and frozen tissue training options for virtual reality simulation
Orlando, Florida May 31, 2013

In the spirit of innovation and advancing Robotic Surgical Training, Mimic Medical Education & Development (MimicMed) is offering 1-Day Simulation-Based Robotic Surgical Training Courses at their Training Center at the Florida Hospital Nicholson Center in Orlando, Florida.
Simulation is now becoming a much more cost effective and efficient means of training future surgeons and promoting new innovative approaches for practicing physicians.
"Many surgeons have been exposed to virtual reality simulation through the daVinci Skills Simulator and the dV-Trainer at various surgical conferences and have requested that formal robotic simulation courses be provided," said Todd Larson, Director of Mimic Medical Education & Development at the Florida Hospital Nicholson Center. "With that in mind, we have partnered with the Florida Hospital Nicholson Center to advance Robotic Surgical Education and Research."
Whether a surgeon has a daVinci S System or Si, this Simulation Course will allow surgeons to enhance their robotic skills safely while providing surgeons with an objective evaluation of performance.
The new Simulation-Based Robotic Surgical Training courses focus on the acquisition and enhancement of the following robotic surgical skills:
1) Endowrist Manipulation
2) Camera Navigation & Instrument Clutching
3) Energy & Dissection
4) Needle Control & Driving
5) Suturing
"We have maximized the time surgeons will spend in the simulator and have also added some fun to the course with the edition of a course competition where you can go head-to-head with your peers to see who the 'Robotic Surgical Master' truly is. Finally, the course will provide educational value by providing CME's for your participation," explained Larson.
The dV-Trainer Simulator has already been utilized in many courses at the Nicholson Center to train Medical Students, Residents, Fellows, and practicing Surgeons. The technology has been well received and has proven to positively impact performance on the daVinci Surgical System.
"Traditionally, surgeons have been trained using frozen tissue and dry lab models, and some will miss the smell associated with decaying tissue and the challenge of suturing on dry lab models with more holes than 'Swiss Cheese'," said Larson. "But there is also the issue of the cost and availability of instrumentation that also impacts the ability to conduct training. On the other hand, you can conduct your training on an animal-model or a cadaver; however, both of these methods do not traditionally provide ready access, and can be restrictive in nature."
Even though the above methods have proven to be effective in the past, they can be expensive, difficult to utilize for the particular training a surgeon may desire, and do not provide an objective way to analyze surgeon performance. More importantly, residents going through initial training may not have access to a robot or a laboratory to conduct this type of training during a demanding and restrictive time schedule.
"Whether you would like to acquire and develop your robotic surgical skills, improve and enhance your existing skills, or simply keep yourself on the cutting edge of technology, I encourage you to attend one of our courses at the Nicholson Center." said Larson.
Register for a MimicMED Simulation Course at https://www.mimicsimulation.com/training/course-calendar/registration/
Featured Product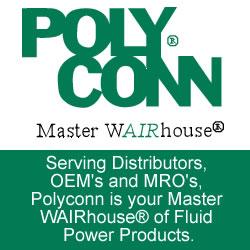 We can produce pneumatic hose and other pneumatic products to match your exact specifications. Our proficient engineering and quality management, coupled with outstanding customer service means Polyconn delivers high quality pneumatic components at competitive prices. Place your order or contact Polyconn for more information on our pneumatic hoses, pneumatic manifolds, Duratec® Pipe or any of our other top quality pneumatic products and components.