Shrum joined QNA from Camber Corporation, where he was vice president and division manager of modeling, simulation and training.
RESTON, Va. - May 31, 2013 - QinetiQ North America (QNA) today announced the appointment of David Shrum as general manager of its Defense Solutions (DS) business unit. In this role, Shrum will have management responsibility for the DS portfolios, including software and systems engineering; aeronautical engineering; and logistics and fleet management. DS's primary customers include the United States Army, Marine Corps, Navy and Air Force.

Shrum joined QNA from Camber Corporation, where he was vice president and division manager of modeling, simulation and training. Prior to his time at Camber, Shrum was vice president of land forces at Northrop Grumman's electronics sector where he led domestic and international business, strategic planning and program execution. Additionally, Shrum spent 23 years at Lockheed Martin in a variety of roles, most notably as the electro-optics fire control program director. Prior to that, he spent 10 years with Sikorsky Aircraft.
"Dave has demonstrated strong leadership, talent and vision since joining QNA in 2011 that will be essential in this new role," said JD Crouch, Chief Executive Officer of QinetiQ North America. "I look forward to working with Dave in this new capacity."
Dave holds an MBA from the University of New Haven and a bachelor's degree from the University of Connecticut. He is a member of the Association of the United States Army, the American Helicopter Society and the Army Aviation Association of America.
About QinetiQ North America
QinetiQ North America (QNA) is a subsidiary of QinetiQ Group plc, the FTSE250 company listed on the London Stock Exchange (LSE:QQ.L). Operating in North America, QNA delivers world-class technology, responsive services, and innovative solutions for global markets, focusing on U.S. government and commercial customers. Its engineers, scientists and other professionals deliver high quality products and services that leverage detailed mission knowledge and proven, reliable tools and methodologies to meet the rapidly changing demands of national defense, homeland security and information assurance customers. QNA is headquartered in McLean, Virginia. For more information visit www.qinetiq-na.com and join our conversation at www.facebook.com/qinetiqna.
Featured Product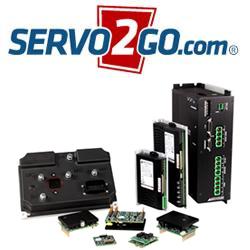 Engineered to drive brushless and brush servomotors in torque, velocity or position mode, Servo2Go.com offers a broad selection of servo drives in a wide range of input voltages and output power levels.