Steve Buffmyer, John Jowski and David Calme join an elite group of industrial automation professionals with exceptional expertise in Siemens SIMATIC Technology areas of S7 PLCs, SIMATIC HMIs, and SIMATIC Networking.
Auburn Hills, MI - June 4, 2013 - Patti Engineering, Inc., a leader in control systems integration, today announced that three more of its engineers have successfully met all of the requirements to achieve Siemens Global Technical Certification in the SIMATIC Technology areas of S7 PLCs, SIMATIC HMIs, and SIMATIC Networking. Individuals achieving this Siemens certification are among an elite group of less than 150 professionals across the country.

As a Siemens Solution Partner with almost half of a dozen Siemens Certified engineers, Patti Engineering is positioned to deliver exceptional service using the Siemens family of automation and process equipment. Patti Engineering's Duane Edgar and Nick Hitchcock, have been certified for over two years. Steve Buffmyer, John Jowski, and David Calme have now joined this prestigious group.
"The Siemens Solution Partner Program is designed to support and further develop a selective group of System Integrators that are committed to delivering high quality solutions based on Siemens automation and drive technologies," commented Siemens National Industrial Partner Manager, Peter Treible. "Patti Engineering has proven to be a leader in the Siemens Solution Partner program through their continued investment in expanding the knowledge base of their engineers, and their ability to successfully apply this knowledge to design solutions for very complex industrial applications. This step to go above and beyond, by certifying an additional 3 engineers exemplifies the high standards that Patti Engineering is known for."
To even qualify for the rigorous two weeks of course work and testing requires an in-depth knowledge of Siemens product functionality, best engineering practices and efficiency in technical approach. Achieving certification requires a higher commitment to training and dedication to best practices, both of which are indicators of a high level of professionalism. In industrial settings, the more challenging the goals of an automation project, the more important it is to have a Siemens Solution Partner with Siemens Certified engineers on staff to deliver the project with a solution of the highest quality.
"With the certification of Steve, John, and David, Patti Engineering is one of just two companies with 5 or more certified engineers in Siemens PLC, HMI and networking technologies," said Sam Hoff, president at Patti Engineering. "We congratulate all of our engineers on this exceptional achievement. They are the backbone of this company and the reason we have been so successful for over two decades."
About Patti Engineering, Inc.
Patti Engineering, Inc. is a CSIA Certified control systems integration company offering high-caliber engineering and software development services. Patti Engineering's technical expertise in electrical control and information systems provides turnkey control systems integration for design/build, upgrade/retrofit and asset/energy management projects. Industrial automation, production intelligence and shop floor IT solutions services include: project management, electrical engineering, hardware design, hardware procurement, software development, installation, calibration, start-up testing, verification, documentation, training and warranty support. Customer satisfaction and project success earned the company Control Engineering Magazine's 2013 System Integrator of the Year. For more information, visit www.pattieng.com.
Featured Product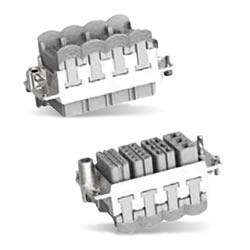 TE Connectivity's HDC Dynamic Module integrates the Dynamic series flexible signal and power solutions and the HDC Heavy Duty Connector series to form a solution of harsh environment connectors. TE's HDC Dynamic Module offers the top features of the two series. It uses the contact concept of the Dynamic series, with its proven performance in industrial uses and its cost effectiveness compared to legacy cutting contacts. The HDC connectors make the module a reliable solution for harsh environments. TE's HDC Dynamic Module supports 2A/32V to 40A/300V performance and 3 positions to 48 positions.