Lenco Industries, Inc., introduces the BearCat® EOD "BombCat" armored response vehicle for EOD and IEDD first responders.
Lenco Industries, Inc., the global leader in the design and manufacture of armored police vehicles, introduces the BearCat® EOD "BombCat" armored response vehicle for EOD and IEDD first responders. Designed with input from veteran explosive ordinance disposal experts with decades of field experience and knowledge, the BombCat offers superior functionality in addition to the proven life-saving protection of Lenco's armored vehicles.

In addition to technicians, the BombCat accommodates a large tactical robot like the Andros F6A, which can be readily accessed using a fold-down ramp at the curb side door or deployed from a hydraulically controlled platform located at the front of the vehicle for effective, close-range delivery to the threat. The BombCat's spool storage reel manages the robot's fiber-optic cable while technicians monitor progress via computer monitors from the safety of the vehicle's interior. Secure radio signals can also be utilized to transmit robot audio and video feeds.
The BombCat also comes equipped with an optional roof-mounted, 24X zoom camera with high-intensity scene lighting that can be raised up to 10 feet for enhanced visibility. A thermal image camera, CBRNE equipment, and advanced communications sensors are also available to meet operator needs.
All Lenco armored trucks are built with Mil-Spec steel armor plate certified to defeat multi-hit attacks from 7.62 AP / .50 Cal BMG, while ceilings and floors provide enhanced blast and fragmentation protection. Ballistic glass windows offer the multi-hit defeat, and also provide superior clarity. Additionally, BombCat models are built on heavy-duty commercial truck platforms, which allow up keep and repairs to be performed at OEM dealers and truck centers greatly reducing maintenance costs versus other specialized vehicles.
###
About Lenco Industries, Inc.
Lenco Industries designs, develops and manufactures armored security vehicles for law enforcement, military, government and private security forces working to safeguard our nation's homeland security as well as downrange in Iraq and Afghanistan. Lenco's client base includes the nation's most prestigious law enforcement agencies, including the Los Angeles Police Department, LA Sheriff Department, Boston Police Department and the New York Police Department. Lenco has also designed and built Special Forces armored vehicles for the US Department of Defense. Lenco is a supplier to the US State Department, Department of Energy, ATF, US Marshals and other high profile government agencies. Lenco's product line includes the BEAR armored SWAT truck, and several variants of the BearCat, including the G4 M-ATV, MedEvac and VIP armored vehicles. For more information, visit www.LencoArmor.com.
Featured Product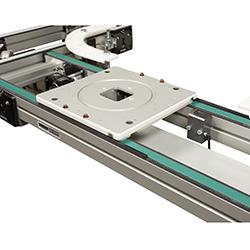 Dorner's 2200 Series Precision Move Pallet Systems are ideal for assembly automation. With features such as an innovative timing belt conveyor design and industry best pallet transfers, they get your product to the exact location, at the exact time and in the exact position it needs to be. They are now available with new options such as heavy load corner modules with 150 lb. capacity and 180 degree tight transfer corners for compact loops.