The PHANTOM quadcopter with Zenmuse H3-2D puts the power of Hollywood in anyone's hands.
Austin, TX June 18, 2013

DJI, the world's leading developer and manufacturer of UAV systems, today announced the general availability of the Zenmuse H3-2D, a gyro-stabilized gimbal built specifically for the GoPro HERO3. Designed to work with DJI's popular PHANTOM consumer quadcopter, the Zenmuse H3-2D is fully integrated and eliminates the risks of installing third party accessories on a PHANTOM, i.e. NAZA and/or MC board burn out. The Zenmuse H3-2D is now available from DJI's large dealer base for $699.
The Zenmuse H3-2D was designed for both average consumers and prosumers seeking a cost-effective means of producing a very wide range of high-quality aerial cinematography. With the Zenmuse H3-2D's advanced algorithms and instant-response direct drive motors, the GoPro remains perfectly level and steady during nearly all conditions - either while held in hand or in the air. This combination allows consumers to produce high quality HD video that rivals productions from systems costing nearly ten times more. Unlike other, less stable, similarly sized gimbals, the DJI Zenmuse H3-2D utilizes uses a standalone PMU (Power Management Unit) to maintain proper voltage to the additional servos on the gimbal - effectively eliminating chances of overload on the PHANTOM's internal components.
"This amazing gimbal marks the first time the average person will have the same power to make films as the elite in Hollywood. We simply want to make things easier for creative people to put on video what they see in their imagination - and we are doing just that," stated Colin Guinn, chief innovation officer of DJI. "We're very excited to see what our customers create over the next several months. DJI is completely changing the landscape in both professional and consumer film making - from backyard video to professional TV and movie productions."
Features of Zenmuse H3-2D
*First fully integrated gimbal for GoPro
*Built in GoPro control module for power, video output and start/stop capability
*Independent IMU for professional level stability during flight
*Accurate to +/- 0.08 degrees
*2 axis (pitch and roll)
*Integrated iOS app for camera control
Features of DJI iOS App
*Low latency video monitoring (downlink)
*Full remote camera control
*Wireless synchronization
*Social Media sharing
*First person viewing (FPV) functionality
About DJI
DJI Innovations ("DJI") is a global leader in developing and manufacturing small unmanned aerial systems (sUAS) for commercial and recreational use. DJI was founded and is run by people with a passion for remote-controlled helicopters and experts in flight control technology. The company is dedicated to making aerial photography and videography more reliable and easier to use for professional photographers, cinematographers and hobbyists around the world.
DJI's global operations currently span North America, Europe and Asia, and its revolutionary products and solutions have been chosen by customers in over 50 countries; for applications in film, advertising, law enforcement, farming, and many other industries.
For more information, visit DJI online: http://www.dji-innovations.com
Featured Product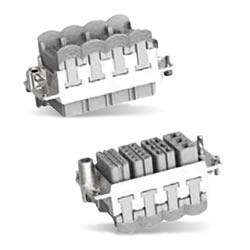 TE Connectivity's HDC Dynamic Module integrates the Dynamic series flexible signal and power solutions and the HDC Heavy Duty Connector series to form a solution of harsh environment connectors. TE's HDC Dynamic Module offers the top features of the two series. It uses the contact concept of the Dynamic series, with its proven performance in industrial uses and its cost effectiveness compared to legacy cutting contacts. The HDC connectors make the module a reliable solution for harsh environments. TE's HDC Dynamic Module supports 2A/32V to 40A/300V performance and 3 positions to 48 positions.