Offer video acquisition speeds up to 6 Gigabits per second, and will send control commands and triggers at 20 Megabits per second
WOBURN, MA, November 15, 2012 -- BitFlow, Inc. is providing machine vision system engineers with a cost-effective alternative to overly expensive four-link CoaXPress (CXP) frame grabbers with its Karbon™ CXP2, a two-link frame grabber ideal for smaller vision systems.

"At VISION 2012 we saw a number of single and dual-link CXP cameras announced, underscoring the emerging potential and mainstream acceptance for the CoaXPress interface," said Donal Waide, Director of Sales for BitFlow. "However, just as many engineers who are beginning to integrate one or two CXP cameras into their systems, they are discovering that they are limited to buying an expensive four-link frame grabber although they only plan on using a maximum of one dual-link camera or two single-link cameras. Our CXP2 eliminates that problem and helps bring the project in at budget."
Incorporating the CoaXpress (CXP) standard, BitFlow Karbon-CXP2 frame grabbers offer video acquisition speeds up to 6 Gigabits per second, and will send control commands and triggers at 20 Megabits per second - all over a single piece of 75 Ohm coaxial cable in lengths up to 135 meters. Additionally, a maximum 13W of power can be transmitted to camera along the cable. Engineers leveraging the Karbon-CXP2 and the CXP standard can easily re-purpose existing coaxial infrastructure with very low installation costs, reducing system complexity and improving utilization.
Karbon-CXP2 frame grabbers are CoaXPress 1.0 compliant and will support either one two-link camera or up to two single-link cameras. Other features include:
Supports CXP speeds from 1.250 to 6.250 Gb/S;
Provides power for all cameras (up to 13 Watts per camera);
Provides Safe Power, full protection from all power line faults;
Cameras are Plug and Play with automatic link speed detection;
Cameras can be accurately synchronized, or can be completely unsynchronized;
PCI Express x8 interface (also works in x16 slots);
Separate I/O for each camera;
Highly deterministic, low latency frame grabber to camera trigger
Supports simultaneous serial communications to all cameras.
Adding the new Karbon-CXP2 to an application is simplified by an included SDK that supports both 32-bit and 64-bit operating systems. Applications can be developed using C/ C++/.NET and BitFlow's sophisticated buffer management APIs.
In addition, free drivers can be downloaded from the BitFlow web site for most 3rd party machine vision packages. The Karbon models are software compatible with each other, as well as with all the other current BitFlow frame grabbers. This makes migrating applications from Camera Link or analog to CXP simple and quick.
All BitFlow frame grabbers are manufactured in the North East region of the United States. For pricing information, please call 781-932-2900.
About BitFlow
BitFlow has been developing reliable, high-performance Frame Grabbers for use in imaging applications for the past 16 years. BitFlow is the leader in Camera Link frame grabbers, building the fastest frame grabbers in the world, with the highest camera/frame grabber densities, triggering performance, and price. With thousands of boards installed throughout the world, into hundreds of imaging applications, BitFlow is dedicated to using this knowledge and experience to provide customers with the best possible image acquisition and application development solutions. BitFlow, located in Woburn, MA, has distributors and resellers located all over the world including Asia, Japan, and Europe. Visit our website at http://www.bitflow.com.
Featured Product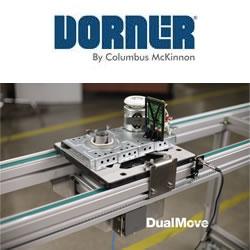 Dorner's 2200 Series Precision Move Pallet Systems are ideal for assembly automation. With features such as an innovative timing belt conveyor design and industry best pallet transfers, they get your product to the exact location, at the exact time and in the exact position it needs to be. They are now available with new options such as heavy load corner modules with 150 lb. capacity and 180 degree tight transfer corners for compact loops.