Alta-AN™ frame grabbers acquire signals from virtually any analog camera on the market, from high speed asynchronous-reset monochrome cameras to super high resolution color HDTV cameras
WOBURN, MA, MAY 29, 2013 -- Affordable and versatile, Alta-AN™ frame grabbers from BitFlow (www.bitflow.com) acquire signals from virtually any analog camera on the market, from high speed asynchronous-reset monochrome cameras to super high resolution color HDTV cameras.

Equally impressive is that this compatibility extends itself to National Instruments' popular LabVIEW® software, making the Alta-AN an ideal replacement to several obsolete analog boards from various manufacturers.
"Some years ago, National Instruments discontinued production of its analog frame grabbers, including the popular NI PCI-1405 mode, creating a void that the BitFlow Alta-AN has filled," explained Donal Waide, Director of Sales for BitFlow: "Despite the machine vision industry's migration of analog to digital imaging, there remains a large population of legacy systems that still acquire analog data from cameras, PMTs and other devices and need a method to get those signals into LabVIEW for analysis. Users of LabVIEW software who originally had installed NI analog boards can now seamlessly swap them out with a BitFlow Alta-AN and experience the same ease-of-use, fast acquisition and minimal CPU usage."
In addition, free drivers can be downloaded from the BitFlow web site for LabVIEW and most 3rd party machine vision packages. The Alta-AN models are software compatible with each other, as well as with all the other current BitFlow frame grabbers.
BitFlow Alta-AN frame grabbers have a Virtual Frame Grabber (VFG) to support either one, two or four analog cameras. Each VFG operates independently so they can be configured for a different camera, triggering mode, and destination buffer, as well as a different acquisition state than the other VFGs on the same board. In addition, multiple VFGs on a single board can acquire signals simultaneously at the cameras' full frame rate and resolution, assuring the highest quality imaging performance.
ABOUT BITFLOW
BitFlow has been developing reliable, high-performance Frame Grabbers for use in imaging applications since 1993. BitFlow is the leader in Camera Link frame grabbers, building the fastest frame grabbers in the world, with the highest camera/frame grabber densities, triggering performance, and price. With thousands of boards installed throughout the world, into hundreds of imaging applications, BitFlow is dedicated to using this knowledge and experience to provide customers with the best possible image acquisition and application development solutions. BitFlow, located in Woburn, MA, has distributors and resellers located all over the world including Asia, Japan, and Europe. Visit our website at http://www.bitflow.com.
Featured Product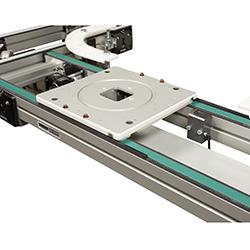 Dorner's 2200 Series Precision Move Pallet Systems are ideal for assembly automation. With features such as an innovative timing belt conveyor design and industry best pallet transfers, they get your product to the exact location, at the exact time and in the exact position it needs to be. They are now available with new options such as heavy load corner modules with 150 lb. capacity and 180 degree tight transfer corners for compact loops.