Forum a Key Event in RIA's 40th Anniversary Year
(Ann Arbor, Michigan) The 21st Annual Robotics Industry Forum will take place January 22-24, 2014 at the Hilton Orlando Bonnet Creek in Orlando, Florida. Over 400 global automation leaders and executives are expected to attend; the event is collocated with the AIA Business Conference and the Motion Control Association (MCA) Business Conference.

"We're looking forward to an exciting Forum as we celebrate the landmark 40th anniversary of the Robotic Industries Association (RIA)," said Jeff Burnstein, President of the Robotic Industries Association (RIA), primary sponsor of the Forum.
Event highlights will include presentations on the global economic outlook and future trends that impact automation companies; breakout sessions on issues such as robot safety, emerging technology trends, and systems integration concerns; and networking parties designed to help attendees make valuable new business contacts in a relaxed and enjoyable setting.
Confirmed keynote speakers and topics include: (more to be announced soon!)
Dennis Snow, President, Snow & Associates
"Creating a World-Class Service Organization"
Robert Atkinson, President, Information Technology and Innovation Foundation
"Innovation Economics: The Global Race for Advantage"
Alan Beaulieu, Principal, Institute for Trend Research
"2014 Global Economic Forecast"
"Forum attendees learn so much, meet so many new people, and have so much fun in just two days that it is always our most highly-rated annual event." Burnstein said.
"We are excited to be hosting our event for the first time at the Hilton Orlando Bonnet Creek. It is a fantastic property that our attendees and their families will enjoy," Burnstein said.
RIA is part of the Association for Advancing Automation (A3), the not-for-profit umbrella association serving RIA, AIA - Advancing Vision + Imaging, and the Motion Control Association (MCA). For more information on RIA and the 2014 Robotics Industry Forum, contact RIA Headquarters at 734-994-6088 or visit Robotics Online.
Featured Product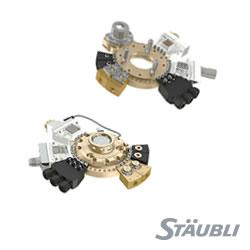 TX2 robots: redefining performance by offering collaborative safety and high performance in a single machine. These pioneering robots can be used in all areas, including sensitive and restrictive environments, thanks to their unique features. Safety functions are easy and inexpensive to implement. They allow a higher level of interactions between robots and human operators, while still guaranteeing protection of your people, production and investment.