Four student teams from Embry-Riddle Aeronautical University's Daytona Beach, Fla., and Prescott, Ariz., campuses designed and flew aircraft against 35 teams from U.S. and international universities at the Student Unmanned Air Systems competition.
July 17, 2013

A student team from Embry-Riddle's Daytona Beach, Fla., campus took fourth place, and a team from the university's Prescott, Ariz., campus took fifth place in the 2013 Student Unmanned Air Systems (SUAS) competition held June 19-22, 2013, at Webster Field, Naval Air Station Patuxent River, Md.
Two other teams from the Daytona Beach Campus also competed, giving Embry-Riddle the largest contingent in the event. Thirty-five teams from U.S. and international universities competed for more than $51,300 in cash prizes to fund new designs for unmanned aircraft.
Sponsored by the Association for Unmanned Vehicle Systems International, the annual SUAS competition challenges students to design and fly an aircraft for a mission requiring autonomous flight, navigation of a specified course and use of onboard cameras and payload sensors. Students also submit technical journal papers and make oral presentations.
Embry-Riddle offers minors in unmanned aircraft systems as well as a B.S. in Unmanned Aircraft Systems Science and an M.S. in Unmanned Autonomous Systems Engineering.
SUAS Competition Results
Team AnDrone (Daytona Beach Campus)
3rd place: Mission
4th place: Overall
4th place: Journal paper
12th place: Oral presentation
The team's advisors were Dr. Charles Reinholtz, professor and chair of the Mechanical Engineering Department; Dr. Eric Coyle and Dr. Patrick Currier, both assistant professors of mechanical engineering; and Dr. Brian Butka, associate professor of electrical engineering.
"AUVSI competitions challenge students to develop state-of-the-art unmanned systems that solve real problems, including fixed-wing and rotary-wing UAVs and ground, surface and underwater vehicles," Reinholtz said. "I'm proud that Embry-Riddle fields more robotics teams in these premier events than any other university, and our teams are always among the top competitors."
Team Awesome (Prescott Campus)
3rd place: Oral presentation
5th place: Overall
6th place: Mission
10th place: Journal paper
The team's advisors were Dr. Brian Davis, associate professor of electrical engineering, and Ray Bedard, associate professor of aeronautical science.
"Our first flight ended with a crash about 20 seconds after takeoff, probably due to autopilot failure," said student team member Matt Lyon. "Luckily, we brought a duplicate airplane and were able to get airborne again within minutes. The second aircraft flew a quick mission and landed safely with a deep-stall recovery. The judges said they had never seen anything like our quick turnaround before."
Team Blackbird (Daytona Beach Campus)
9th place: Oral Presentation
15th place: Overall
15th place: Mission Performance
24th place: Journal Paper
The team's advisor was Dr. Richard Stansbury, associate professor of computer engineering and computer science.
"The team put in a great effort this year," Stansbury said. "They experienced a major setback a few weeks before the competition, but managed to recover significantly in very short time. As a result, they could not complete the full mission but were able to autonomously take off, navigate, land and acquire some visuals of ground targets. I'm very proud of the hard work and dedication the students put forth."
Team UAS Tech (Daytona Beach Campus)
12th place: Mission
18th place: Overall
22nd place: Oral presentation
23rd place: Journal paper
The team's advisors were Alexander Mirot and Dr. John Robbins, both assistant professors of aeronautical science.
"A first-year team, UAS Tech achieved autonomous take off, navigation and landing," said Mirot, the Embry-Riddle program coordinator for unmanned aircraft systems. "The students were very enthusiastic about the opportunity to apply their knowledge and look forward to returning next year."
About Embry-Riddle Aeronautical University
Embry-Riddle Aeronautical University, the world's largest, fully accredited university specializing in aviation and aerospace, is a nonprofit, independent institution offering more than 40 baccalaureate, master's and Ph.D. degree programs in its colleges of Arts and Sciences, Aviation, Business and Engineering. Embry-Riddle educates students at residential campuses in Daytona Beach, Fla., and Prescott, Ariz., and through the Worldwide Campus with more than 150 locations in the United States, Europe, Asia and the Middle East. The university is a major research center, seeking solutions to real-world problems in partnership with the aerospace industry, other universities and government agencies. For more information, visit http://www.embryriddle.edu, follow us on Twitter (@EmbryRiddle) and http://www.facebook.com/EmbryRiddleUniversity, and find expert videos at YouTube.com/EmbryRiddleUniv.
Featured Product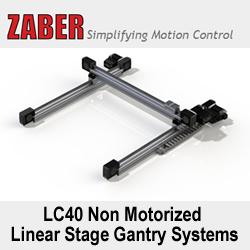 Zaber's X-LRQ-DE Series of linear stages have high stiffness, load, and lifetime capabilities in a compact size. The integrated linear encoder combined with stage calibration provides high accuracy positioning over the full travel of the device. At 36 mm high, these stages are excellent for applications where a low profile is required. The X-LRQ-DE's innovative design allows speeds up to 205 mm/s and loads up to 100 kg. Like all Zaber products, the X-LRQ-DE Series is designed for easy set-up and operation.