The Congressional Robotics Caucus was formed in 2007 to focus on key issues facing the nation's robotics industry and related emerging technologies.
(Ann Arbor, Michigan, USA - July 22, 2013) - The Association for Advancing Automation (A3), the global advocate for the automation industry, announced today that A3's President Jeff Burnstein has been selected to speak at the Congressional Robotics Caucus Briefing titled "Harnessing New Robotics Technologies for Job Creation." The Caucus Advisory Committee is hosting the briefing in conjunction with Caucus Co-Chairs Congressman Mike Doyle (D-PA) and Congressman Phil Gingrey (R-GA) on July 25, 2013 in Washington, D.C.

The briefing will present a first hand account of views, opinions and real-world experiences of experts and practitioners in the industry and academia, to demonstrate how robots are contributing to job growth and sustainability of U.S. industries.
"The use of robots and other automation technologies saves and creates jobs in the United States," said Burnstein. "There are countless examples of innovative American companies who are using automation to become stronger global competitors, saving and creating more jobs while producing higher quality and lower cost products, rather than closing up shop or sending jobs overseas. I'm looking forward to presenting these facts to the Caucus in order to help dispel the notion that these transformative technologies are eliminating jobs."
The Congressional Robotics Caucus was formed in 2007 to focus on key issues facing the nation's robotics industry and related emerging technologies. The briefing will be held at the Congressional Meeting Room North, Capitol Visitor Center, at 2:00 PM on Thursday, July 25, 2013. It will be moderated Raj Madhavan, Ph.D., Vice President, Industrial Activities Board, IEEE Robotics and Automation Society. Other speakers include:
Mitchell Weiss, Chief Operating Officer, Seegrid; and
David Bourne, Principal Systems Scientist, Robotics Institute, Carnegie Mellon University.
A3 is the umbrella group for Robotic Industries Association (RIA), AIA - Advancing Vision + Imaging, and Motion Control Association (MCA). RIA, AIA, and MCA combined represent some 650 automation manufacturers, component suppliers, system integrators, end users, research groups and consulting firms from throughout the world that drive automation forward. For more information on A3, click here. For information on RIA, visit Robotics Online. For information on AIA, visit Vision Online. For information on MCA, visit Motion Control Online.
Featured Product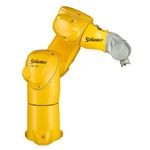 TX2 robots: redefining performance by offering collaborative safety and high performance in a single machine. These pioneering robots can be used in all areas, including sensitive and restrictive environments, thanks to their unique features. Safety functions are easy and inexpensive to implement. They allow a higher level of interactions between robots and human operators, while still guaranteeing protection of your people, production and investment.