L-3 Link Simulation & Training is a world leader in providing total training solutions for operators and maintainers across a wide range of military and civil aircraft platforms.
NEW YORK--L-3 Communications (NYSE: LLL) announced today that its Link Simulation & Training (L-3 Link) division has won the recompete for the U.S. Air Force's Predator Mission Aircrew Training System (PMATS) program. The recompete contract awarded to L-3 Link by the U.S. Air Force's Life Cycle Management Center at Wright-Patterson Air Force Base, Ohio, includes transitional funding that extends through September 2013, in addition to six one-year contract options.

"The U.S. Air Force became our first unmanned aircraft system training customer in 2005 and we are honored to have been selected to continue as prime contractor on the Predator Mission Aircrew Training System," said Steve Kantor, president of L-3's Electronic Systems Group. "Our PMATS system is a proven, efficient and cost-effective platform for unmanned aircraft simulation, and we remain committed to providing MQ-1 Predator and MQ-9 Reaper combat operators with a maximum level of training realism as they prepare to undertake missions of global vigilance, reach and power."
Initial transitional funding will be used to provide L-3 Link's ongoing contractor logistics support and Training System Support Center activities for all 26 PMATS devices located at Air Force installations throughout the continental United States. The Air Force could exercise contract options calling for L-3 Link to build over 50 additional PMATS devices. L-3 Link will also be responsible for follow-on concurrency between PMATS devices and the unmanned aircraft through 2019.
Each PMATS training system uses an actual ground control station that is integrated with L-3 Link's simulation software and visual system databases to create a high-fidelity environment that simulates aircraft performance, weapons, sensors, communications, data link operations, emergencies, degraded video feeds and environmental conditions. Predator and Reaper crews can gain initial qualification, mission qualification, continuation and mission rehearsal training in PMATS units.
L-3 Link Simulation & Training is a world leader in providing total training solutions for operators and maintainers across a wide range of military and civil aircraft platforms. L-3 Link's innovative solutions provide a full spectrum of state-of-the-art training technologies, including high-fidelity immersive simulations, as well as distributed academic and interactive courseware. The company has delivered military and civil training systems to customer locations throughout North America, Europe, Asia and the Pacific Rim. L-3 Link is headquartered in Arlington, Texas, with key bases of operation in Binghamton, N.Y.; Orlando, Fla.; Oklahoma City, Okla.; Broken Arrow, Okla.; Phoenix, Ariz.; and Crawley, U.K. For more information, please visit the company's website at www.link.com.
Headquartered in New York City, L-3 employs approximately 51,000 people worldwide and is a prime contractor in C3ISR (Command, Control, Communications, Intelligence, Surveillance and Reconnaissance) systems, platform and logistics solutions, and national security solutions. L-3 is also a leading provider of a broad range of electronic systems used on military and commercial platforms. The company reported 2012 sales of $13.1 billion.
To learn more about L-3, please visit the company's website at www.L-3com.com. L-3 uses its website as a channel of distribution of material company information. Financial and other material information regarding L-3 is routinely posted on the company's website and is readily accessible.
Featured Product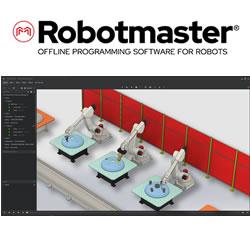 Robotmaster delivers unmatched, full-function off-line programming capability for robots - easy programming of precise robot motion control and quick generation of path trajectories of any size, with minimal programmer intervention. Our strong background in CAD/CAM (Computer Aided Manufacturing) software has enabled us to bring a revolutionary approach to programming industrial robots.