Company Celebrates Anniversary Milestone with Plans for New Innovative Products, Pioneering Technologies and Continued Team Dedication
PLEASANTON, Calif., July 23, 2013 - Adept Technology, Inc.

(Nasdaq:ADEP), a leading provider of intelligent robots and autonomous
mobile solutions, today announced it has reached its 30th year in business.
The company, founded in 1983, shipped its initial product, the AdeptOne, the
world's first direct drive robot system in 1984. Today Adept's automation
solutions are used in Packaged Goods, Life Sciences, Disk Drive/Electronics
and Semiconductor/Solar; as well as in more traditional industrial markets
such as machine tool automation and automotive components. Adept has
installed more than 57,000 automation systems worldwide into a broad
spectrum of high-growth markets.
"I congratulate Adept Technology, headquartered in my district, on the
tremendous accomplishment of its 30th anniversary. Adept Technology, the
largest U.S.-based manufacturer of robots, is a fine example of California's
creativity and spirit of innovation," said Rep. Eric Swalwell (CA-15). "It
is companies like Adept that help to make American manufacturing more
competitive and enable companies to re-shore their operations from overseas,
key to reinvigorating our economy through a strong domestic manufacturing
sector. I wish them well as they embark on their next 30 years."
"We are very proud to have achieved this milestone in our history but we are
just getting started," said Rob Cain, president and CEO of Adept Technology.
"We are seeing manufacturers around the world beginning to replace hard
automation with flexible robotic work cells in order to accommodate mass
customization and shorter product lifecycles. Our fully autonomous mobile
vehicles are now working side by side with people in both the medical and
semiconductor industries. In the near future we see robots working
collaboratively alongside people on a variety of tasks in factories,
distribution centers and medical facilities. The future is very bright and
we are excited to be a part of it."
As part of its celebration Adept has placed a blog on its website
http://trk.cp20.com/Tracking/t.c?5pxa7-96kb5-8w3whi1&_v=2 to feature
comments from customers and videos and images of Adept robot installations
around the world. Customers are encouraged to post their best stories and
examples of Adept robots in action.
About Adept Technology, Inc.
Adept is a global, leading provider of intelligent robots and autonomous
mobile solutions that enable customers to achieve precision, speed, quality
and productivity in their assembly, handling, packaging, testing, and
logistical processes. With a comprehensive portfolio of high-performance
motion controllers, application development software, vision-guidance
technology and high-reliability robot mechanisms with autonomous
capabilities, Adept provides specialized, cost-effective robotics systems
and services to high-growth markets including Packaging, Medical,
Electronics, and Logistics, as well as to traditional industrial markets
including automotive components. More information is available at
www.adept.com.
Featured Product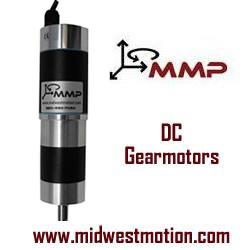 Midwest Motion Products, Inc. (MMP), is a well-established, healthy, & growing Family Owned Business, founded in 2001. MMP specializes in cost-effective standard DC Gearmotors, Motors, Controls, and ancillary equipment. Known world-wide for our "Lightning Fast" delivery capabilities, you can have a Standard Planetary or Right Angled DC Gearmotor BUILT and SHIPPED, often on the very same day you call. Offering Brushed and Brushless designs, with winding voltages ranging from 12 VDC to 120 VDC, we can deliver your "Robust & Reliable" samples within HOURS, instead of weeks, or even months.