The increased use of unmanned air systems (UAS) takes on many functions of a pilot.
HAMPTON, Va., Aug. 5, 2013 -- On Tuesday, Aug. 6, at NASA's Langley Research Center in Hampton, Va., professor John McDermid will present, "Autonomous, Adaptive, and Safe?" at 2 p.m. in the Reid Conference Center.

The increased use of unmanned air systems (UAS) takes on many functions of a pilot. McDermid will discuss some of the issues surrounding the growing role software has in these systems including their use in automobiles and aerospace.
McDermid will be available to answer questions from the media during a news briefing at 1:15 p.m. that day. Media who wish to do so should contact Chris Rink at 757-864-6786, or by e-mail at chris.rink@nasa.gov, by noon on the day of the talk for credentials and entry to the center.
That same evening at 7:30, McDermid will present a similar program for the general public at the Virginia Air & Space Center in downtown Hampton. This Sigma Series event is free and no reservations are required.
In order to use UAS, software must be autonomous and adaptive while assuring software systems behave in a safe way. McDermid's talk will identify some of the issues in developing safety-critical software-intensive UAS to operate in shared airspace. He will also discuss limits in what we can assure and what we should be willing to deploy in the flight paths over or near densely populated cities and towns.
Since 1987, McDermid has been the Professor of Software Engineering at the University of York. He began the High Integrity Systems Engineering research group in the Department of Computer Science and was head of the department from 2006 to 2012.
McDermid advised the U.S. Nuclear Regulatory Commission on software safety. In 2002, he was elected a Fellow of The Royal Academy of Engineering and made an Officer of the Order of the British Empire in the 2010 New Year's Honors List.
For more information about NASA Langley's Colloquium and Sigma Series Lectures, visit:
http://colloqsigma.larc.nasa.gov
Featured Product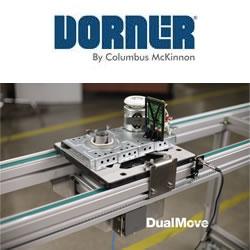 Dorner's 2200 Series Precision Move Pallet Systems are ideal for assembly automation. With features such as an innovative timing belt conveyor design and industry best pallet transfers, they get your product to the exact location, at the exact time and in the exact position it needs to be. They are now available with new options such as heavy load corner modules with 150 lb. capacity and 180 degree tight transfer corners for compact loops.