The Open Source Robotics Foundation (OSRF), the non-profit organization charged with supporting the development, distribution and adoption of open-source software for use in robotics research, education and product development, recently relied on SoftLayer Technologies to host the DARPA Virtual Robotics Challenge (VRC).
SoftLayer, now an IBM company, provided the multi-faceted infrastructure of bare metal, cloud and high-performance GPU servers to help push the boundaries of robotics technology. OSRF was funded by DARPA to support the simulator-based event, part of the broader DARPA Robotics Challenge (DRC).

Competitors in the VRC sought to develop software to enable a simulated robot to execute tasks similar to the activities that might be required of emergency personnel in a disaster response situation. The VRC drew more than 100 teams from around the world, and SoftLayer's uniquely customizable cloud platform allowed them to compete from remote locations. The winners of the virtual competition will move on to the next stage of the DRC, in which the software they tested during the VRC will be applied to physical robots during a live event.
OSRF selected SoftLayer for the VRC because the level of simulation the competition demanded needed machines to speak to each other at hyper-fast speeds. SoftLayer offered power and speed, as well as a raw compute offering without any extra virtualization. SoftLayer was the only dedicated platform that could shorten the communication loop between machines to 1k/second, thereby offering the power and speed necessary for complex robotics simulation.
"The first Virtual Robotics Competition is an exclamation point in the evolution of the cloud, testing its performance limits and highlighting the need for bare metal servers and virtual environments to work in tandem," said SoftLayer chief scientist, Nathan Day. "SoftLayer's platform can be uniquely tailored to meet requirements across the full spectrum of server needs and we are thrilled to work with Open Source Robotics Foundation in this premier event."
In preparation for the VRC, OSRF configured SoftLayer's platform into a highly specialized format so that teams were able to control their own server constellation apart from other teams. Through SoftLayer's API, each team was given five connected servers, including two high-end NVIDIA dual Intel Sandy Bridge servers with GPU, isolated from any others in the competition. Teams were able to reload their own servers as needed, and OSRF could reset constellations to their virgin state once each team finished its simulation.
"SoftLayer was a true partner in hosting the VRC Simulator and worked with our team closely to pre-test machines for the competition," said Brian Gerkey, CEO of OSRF. "The VRC was an unprecedented initiative and required technology partners that were willing to go the extra mile to assure that this event made its mark in history."
Source: http://www.softlayer.com/
Featured Product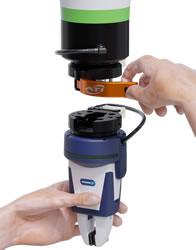 ATI Industrial Automation's MC-10 Manual Tool Changer provides a cost-effective solution for quickly changing tools by hand. Its compact yet robust design is optimized for collaborative robot applications. The ergonomic twist-collar locking mechanism ensures a secure attachment of the tool and easy manual operation with tactile feedback. This Manual Tool Changer can carry payloads of up to 22 lbs and includes multiple fail-safe features that resist vibration and prevent loosening. The MC-10 Manual Tool Changer has integrated air pass-through connections and options to connect electrical utilities if needed. ATI will feature the new MC-10 along with a variety of other robotic demonstrations and product displays at this year's IMTS show in Chicago (Booth #236417).