Grizzly RUV Merits "Best New Product or Service of the Year - Industrial Products & Services"
(Kitchener, ON, Canada - August 14, 2013) Clearpath Robotics announced today that it was named the winner of the Gold Stevie® Award for "Best New Product or Service of the Year - Industrial Products & Services" in the 10th Annual International Business Awards. Clearpath's new product to be recognized for the Gold Stevie is their most recent robotic platform, Grizzly Robotic Utility Vehicle (RUV).

International Business Awards (IBAs) are one of the world's top premier business award programs. The Stevie Awards, nicknamed the Stevies for the Greek word "crowned," were created to honor and generate public recognition of the achievements and positive contributions of organizations and working people worldwide.
More than 3,300 nominations from organizations in over 50 nations and territories were submitted this year for consideration in a wide range of categories, including Most Innovative Company of the Year, Management Team of the Year, Best New Product or Service of the Year, Corporate Social Responsibility Program of the Year, and Executive of the Year, among others. The Stevie Award winners were selected by more than 250 executives worldwide who participated in the judging process this year.
"The 2013 International Business Awards are noteworthy for featuring the best collection of entries we have ever received," said Michael Gallagher, president and founder of the Stevie Awards. "The judges have been unanimous in their comments about the quality of achievements, and the expertise with which they were portrayed, in the nominations we received this year. We extend our most heartfelt congratulations to all of this year's Gold, Silver and Bronze Stevie Award winners."
Clearpath Robotics introduced Grizzly RUV in March 2013. The autonomous vehicle is engineered to handle harsh, dangerous environments. With four high-torque motors, rugged 26" all-terrain tires, class-leading ground clearance, a solid steel chassis, 48V at 400Ah of power, and a base weight of 1450lbs, it is ideal for industrial applications, particularly in agriculture, mining and defense.
"We are honored to be recognized by the International Business Awards and congratulate all of the nominees and fellow honorees for their achievements", said Matt Rendall, CEO of Clearpath Robotics. "Grizzly Robotic Utility Vehicle is the first of its kind in the industry and the team here at Clearpath is beyond excited for their acknowledged accomplishment - Grizzly would not have come to fruition without the dedicated, awesome team of engineers that stand behind it."
Details about The International Business Awards and the list of Stevie Award winners are available at http://www.stevieawards.com/pubs/iba/awards/408_2219_24132.cfm. The awards will be presented to winners at a gala awards banquet at the W Hotel in Barcelona, Spain on 14 October 2013.
About Clearpath Robotics
Clearpath Robotics, a global leader in unmanned vehicle robotics for research and development, is dedicated to automating the world's dullest, dirtiest, and deadliest jobs. The Company serves leading researchers in over 30 countries worldwide in academic, corporate and military environments. Recognizing the value of future innovation, Clearpath Robotics established PartnerBot, a grant program to support university robotics research teams, internationally. Clearpath Robotics provides robust solutions that are engineered for performance, designed for customization, and built for open source. Visit Clearpath Robotics at www.clearpathrobotics.com, follow us on Twitter @clearpathrobots or like us on Facebook.
About the Stevie Awards
Stevie Awards are conferred in five programs: The International Business Awards, The American Business Awards, the Asia-Pacific Stevie Awards, the Stevie Awards for Women in Business, and the Stevie Awards for Sales & Customer Service. Honoring organizations of all types and sizes and the people behind them, the Stevies recognize outstanding performances in the workplace worldwide. Learn more about the Stevie Awards at www.StevieAwards.com.
Featured Product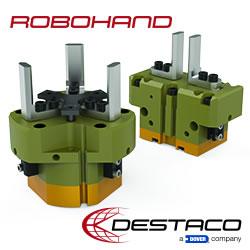 Automatically change end effector tooling quickly and easily with Destaco's Automatic Tool Changers. Designed with exceptional repeatability, high rigidity and load capacity, they are perfect for multiple tooling applications utilizing one robot. We offer different models and sizes to handle light-duty to heavy-duty applications. Our RQC/RTP Series provides a high level of flexibility with a configurable, modular design that accommodates up to four optional modular interfaces.