Donald Angel, Lead Applications Engineer for Murata Machinery USA's Fabrication Division, will be speaking at Fabtech 2013 about the new Intelligent Controls Interface system Muratec will be unveiling at the conference.
Charlotte, NC August 21, 2013

At Fabtech 2013, Murata Machinery USA's Fabrication Division will unveil a brand new proprietary software controls interface that increases operator efficiency, machine efficiency, product quality, and provides tool data tracking for turret punch press and loader systems.
"We feel Murata's Intelligent Control Interface offers a huge advantage to any production environment," says Cary Teeple, Sales Manager-Fabrication Products for Muratec, "this system minimizes downtime and optimizes production schedules."
Donald Angel, Lead Applications Engineer at Murata Machinery USA, will be speaking about the Intelligent Control Interface at Fabtech 2013, where he will discuss how the system affects tool setup, turret layout and tool maintenance.
"Setup time typically provides the biggest deterrent to high production 'green light' time on your turret punch press," Angel stated, "this new technology can assist in reducing setup times to gain greater production times and allow expanded capacity, adding value to sheet metal production."
Growth and profitability in the metal fabrication industry are largely based on how efficiently tooling can be run, Angel explained. Automation, higher-speed tooling, and software-guided controls have all contributed to improving that efficiency. But, setup time - the time it takes to swap tools in and out and recalibrate the machine for the next stage of the job at hand - cuts deeply into production time. The Intelligent Control Interface maximizes efficiencies throughout the metal fabricating process.
Charlotte-based Murata Machinery USA, Inc., makers of Muratec brand machinery, specializes in applications, service and sales of turret punch presses. Murata's fabrication division, formerly Murata Wiedemann, supplies mechanical, servo-drive, and punch/plasma turret punch presses. They will be at Booth S938 at Fabtech. For more information on Murata Machinery USA or its products, visit http://www.turretpunchpresses.com or call 800-428-8469.
Featured Product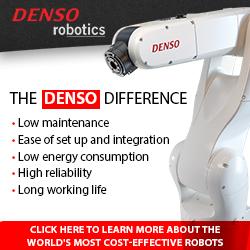 DENSO is the world's largest manufacturer - and user - of small assembly robots, employing over 17,000 of its robots in its own facilities. Over 77,000 additional DENSO robots are used by other companies worldwide. The compact, high-speed robots are used in traditional manufacturing sectors, as well as in advanced-technology applications in the medical, pharmaceutical and life sciences industries. Learn more about DENSO Robotics