Online Instructional Robotic Technical Topics to be Covered by Experienced Engineering Team
PLEASANTON, Calif., Sept. 12, 2013 -- Adept Technology, Inc. (Nasdaq:ADEP), a leading provider of intelligent robots and autonomous mobile solutions and services, today announced a new "Tech Topics" webinar series. Targeted at system integrator and end-user technical personnel, students and others looking for a technical introduction to industrial robotics, the monthly one-hour webinars will cover a variety of subjects. They will be taught live by Adept's own applications engineering team who have decades of experience in implementing both simple and highly complex robotic packaging, assembly, handling, and logistics applications.

Topics to be covered include:
*Vision Guided Robotics Do's and Don'ts
*Introduction to ACE
*Packaging Line Layout Do's and Don'ts
*Introduction to PackXpert
*Robot Programming That You Already Know (ePLC)
*Choosing the Right Robot for the Job
And more to come.
"By offering these complementary technical webinars we hope to remove some of the potential barriers to increasing robot adoption," states Mark Noschang, Adept's North American Applications Engineering Manager. "With rising labor costs, greater product complexity and consumer demands for mass customization, manufacturers in all industry segments are searching for alternatives to hard automation and offshore hand assembly. The goal of each of these webinars is to not only instruct potential users on how to design proper robotic applications, but also demonstrate how to avoid some of the common mistakes associated with them. Using these techniques, implementers will be able to maximize throughput and their return on investment."
To see the complete schedule of webinars and register for one or more please go to http://www2.adept.com/schedule-of-webinars on Adept's website. You may also contact Christine Hopkins at (925) 245 5434.
About Adept Technology, Inc.
Adept is a global, leading provider of intelligent robots and autonomous mobile solutions and services that enable customers to achieve precision, speed, quality and productivity in their assembly, handling, packaging, testing, and logistical processes. With a comprehensive portfolio of high-performance motion controllers, application development software, vision-guidance technology and high-reliability robot mechanisms with autonomous capabilities, Adept provides specialized, cost-effective robotics systems and services to high-growth markets including Medical, Electronics, Food and Semiconductor; as well as to traditional industrial markets including Machine Tool Automation and Automotive Components. More information is available at www.adept.com.
Featured Product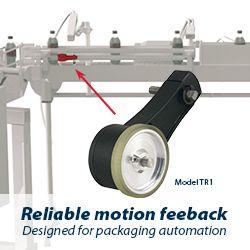 EPC is excited to announce our NEW online 3D Configurator. This new tool makes it even easier to configure EPC's products exactly how you need them for your application. The 3D Configurator interface is intuitive and works in any web browser for both desktop and mobile. It'll only take you a moment to learn your way around the program. Careful, though: it's so fun to play with, you may spend a whole afternoon on it!