Esys Automation of Auburn Hills, Michigan is proud to announce the receipt of an order for a complete automotive turnkey sealer system for a major European Auto Manufacturer. The award was won through Eisenmann Corporation in Crystal Lake, Illinois, a leading global industrial solutions provider for surface finishing and material flow automation in the automotive industry.
The system is currently in the build phase at the Esys Automation manufacturing facility. It includes two (2) Underbody Sealer Cells, two (2) Interior Sealer Cells and one (1) Liquid Applied Sound Deadener (LASD) Cell. Turnkey installation is set for Q1 of 2014; with all start-up and robot programming to be executed by Esys Automation.

Esys has partnered with ABB of Auburn Hills, Michigan to supply robots for the project, which includes sixteen (16) application robots and three (3) material handling robots. Application systems are being engineered and supplied by SCA Schucker out of Novi, Michigan. The SCA equipment includes spray applicators and dual servo, positive displacement dispensers, as well as three (3) bulk supply systems for the delivery of the sealer. Also included in the system is Vision equipment supplied by ISRA Vision out of Bloomfield Hills, Michigan.
According to Scott Claxton, Vice President of the Production Systems Division of Esys Automation, "This order further solidifies Esys Automation's position of being an industry leading supplier of Dispensing Systems." Esys has provided automated dispensing systems for several US Automotive OEM plants in the United States, Canada and Mexico. Applications include: Anti-Chip, Cosmetic Seam Sealer, Interior Seam Sealer, Liquid Applied Sound Deadener (LASD), Roof Ditch Sealer, and Underbody Sealer.
Featured Product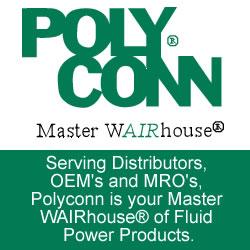 We can produce pneumatic hose and other pneumatic products to match your exact specifications. Our proficient engineering and quality management, coupled with outstanding customer service means Polyconn delivers high quality pneumatic components at competitive prices. Place your order or contact Polyconn for more information on our pneumatic hoses, pneumatic manifolds, Duratec® Pipe or any of our other top quality pneumatic products and components.