To be held October 27-30, 2013 in Charleston, SC
Pewaukee, WI September 10, 2013-- Midwest Engineering Systems Inc., an innovative provider of premier custom machines and integrated systems, is sponsoring the 2013 AIMCAL Web Coating & Handling Fall conference.

The AIMCAL Web Coating and Handling Conference will be held October 27-30, 2013 in Charleston, SC, bringing together the converting community to advance the technology of web processing, handling and finishing. Leading industry professionals will be speaking at the conference on technology advancements and best practices of the Web Coating & Handling industry.
As a member of AIMCAL, Midwest Engineering Systems Inc. has sponsored this event and will have Web Handling experts available to meet with attendees during the receptions on Sunday October 27th from 7pm-8:30pm and on Monday October 28th from 6pm-7:30pm. See our AIMCAL member profile & Visit AIMCAL's website to register or find out more information about the conference.
Midwest Engineering System's team of web handling professionals average over 20 years of experience in the Paper, Film, and Foil Converting Industries (PFFC) and offer all aspects of web handling systems.
For more company information and news visit: www.mwes.com/news
Midwest Engineering Systems Inc. has been providing high-quality custom machine design and automation solutions since 1991.
- See more at: http://www.mwes.com/news/aimcal-conference-2013.html#sthash.QySVcKKZ.dpuf
Featured Product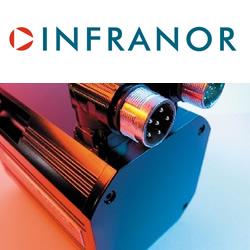 The XtraforsPrime or FP series of slotless brushless servo motors provide improved torque and power density compared to standard brushless servo motors. They are capable of very high speeds (30,000 RPM), smooth ZERO cogging motion, high effiecency and are availble in 8 frame sizes to fit your application needs. To learn more visit our website at www.infranorusa.com/xfprime or contact us at info@infranorusa.com or at (978) 988-9002.