Integrated system includes solutions from five Pro Mach Brands; single sourced system and acceptance testing increases line efficiency and reduces customer's integration risk; see system at Pack Expo Las Vegas, September 23-25, Booths C-1920 & C-2020
Alexandria, MN September 12, 2013

Pro Mach's End of Line Packaging Solutions is featuring a complete end of line system built from its brands at Pack Expo Las Vegas, September 23-25, Booths C- 1920 and C-2020. The integrated system includes a Brenton Mach-2 case packer, Edson SR3600sa case packer with SC-SS Servo Cassette Collator, Currie by Brenton HLP conventional palletizer and MasterPal™ full layer robotic depalletizer, Shuttleworth and KLEENLine conveyors, and Brenton case elevators.
The system will also feature new integration technology offered by Pro Mach from Rockwell Automation called RAPID Line Integration that uses Packaging Machine Language (PackML) to enable easier linkage between machines.
Pro Mach's End of Line Packaging Solutions provides single sourcing for complete, turnkey integrated systems optimized for each customer's unique packaging needs. Pro Mach's state-of-the-art facility in Alexandria, Minnesota is equipped to manufacture and test sophisticated end of line systems, including complex factory acceptance testing requirements.
The integrated End of Line system exhibited at Pack Expo incorporates machines from five Pro Mach brands including:
*BrentonPro Mach-2 servo-driven, side-load indexing case packer. The all servo Mach-2 delivers efficient, high performance 25-case-per-minute operation in a small footprint. All electronic and servo drives are sized to match their unique torque requirements to increase efficiency and reduce power requirements. The Mach-2 offers unparalleled versatility and performance for nearly any case design including RSC, HSC, tray, wrap-around, knock-down, and harness for cartons, bottles, cans, and pouches.
*Edson SR3600sa case packer with a SC-SS Servo Cassette Collator. The SR3600sa combined with SC-SS collator combines the latest servo technology and unique mechanical assemblies to deliver high-performance, high-speed packing for large cases and trays. The SR 3600sa includes Edson's one-button Servo Adjust™ system for simple, automatic changeovers. Edson's innovative InteleSuite of intelligent packaging systems for instant on-machine product support, maintenance, and part management will also be featured.
*Currie by Brenton HLP High Level Infeed Palletizer. The new hydraulic free, fully automatic high-speed HLP palletizer incorporates advanced servo, safety, and touchscreen controls to deliver unparalleled product handling, ease of operation and investment value. The modular design accommodates a wide range of plant configurations and is ideal for packaging operations requiring speeds from 30 to over 100 cases per minute.
*Currie by Brenton MasterPal™ Full Layer Robotic Depalletizer. MasterPal's patented "cradle and place" technology depalletizes whole layers of product weighing up to 500 lbs in a single motion at significantly greater speeds than vacuum pick and rollers. The versatile end-of-arm tool provides superior results for full or empty bags, bottles, cans or irregular shaped products, open or sealed cases, trays, display packs, bundles, and bulk products.
*Shuttleworth Slip-Torque® conveyors provide advanced gentle material handling and low back-pressure accumulation to reduce product damage and deliver precise product placement without jamming and shingling.
*KLEENLine conveyors provide durable, easy-to-clean material handling for a wide range of applications, product types and packaging requirements.
*Brenton Case Elevators provide dependable, easy-to-maintain material handling for a wide range of applications.
"Having a single source to design, build, and integrate your system greatly reduces the risk of purchasing and assembling a system from multiple vendors," says Barry Heiser, President, Pro Mach End-of-Line Business Unit. "At Pro Mach, we can assemble the complete system and test it in our facility to ensure it operates at peak efficiency before shipment. Our relationship with Rockwell to offer RAPID also provides customers with a beneficial line-control solution for Overall Equipment Effectiveness (OEE) reports and reduced installation time and startup."
Pro Mach's End of Line brands include Brenton case packers and robotics, Currie palletizers and depalletizers, Dekka tape heads, Edson case and tray packing systems, KLEENLine material handling solutions, IPak tray formers and stackers, Orion stretch wrappers, Shuttleworth conveyors and product handling systems, and Wexxar/BEL case and tray formers and sealers.
For more information please contact End of Line Packaging Solutions at 800-535-2730 or sales(at)becmail(dot)com.
About Pro Mach
Pro Mach is a leading provider of integrated packaging products and solutions for food, beverage, household goods, pharmaceutical, and other diverse consumer and industrial companies. Through multiple business units and related brands, Pro Mach provides equipment, installation, training, parts, and service in primary and secondary packaging, flexible packaging, end-of-line packaging, material handling, and identification and tracking.
Pro Mach has a diverse customer base, from Fortune 500 companies to smaller, privately-held businesses worldwide, which depend on reliable, flexible, technologically advanced packaging equipment and integrated solution sets. Pro Mach is headquartered near Cincinnati, Ohio with manufacturing facilities and offices throughout the United States and Canada. For more information about Pro Mach visit our website at http://www.ProMachInc.com.
Featured Product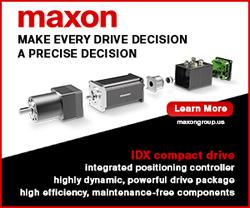 A brushless DC motor solution for use in hip and knee exoskeletons. This complete joint actuation unit consists of motor, gearhead, encoder and position controller. Fitting absolute encoder directly at the joint rotation provides designers increased positioning accuracy. The unit will deliver 54Nm of continuous torque and 120Nm on a 20% duty cycle. The system can be operated on supplies between 10 and 50V DC and the actuation speed is up to 22rpm.