An Up-Close Look at New Innovations in Robotics, Software and Connection Technology
DUNCAN, SC (September 9, 2013) - Stäubli and Multi-Contact, a Staubli Group company, will host their West Coast Technology Days event in Windsor, CA, October 9-10, 2013. The two-day event offers a unique opportunity to explore a vast array of leading edge robotic and connection technologies - more than any other event of its kind. Along with exhibits and live demonstrations, Stäubli and Multi-Contactwill feature interactive workshops and technical sessions.

Technology Days is geared to professionals in engineering and manufacturing management who are looking for ways to increase efficiency and maximize productivity through technology. Attendees will have the chance to see the latest innovations in the industry and network with other leaders. Stäubli's Robotics and Connectors Divisions, as well as Multi-Contact, will each share their innovations:
Robotics: Discover how advanced robots can carry out a multitude of tasks with exceptionally high speed, accuracy and reliability. The Robotics Division will present robots as well as robot controllers and software solutions for automating numerous applications across all industries. Live demos will include the ultra high-speed TP80 Fast Picker, capable of 200 picks per minute.
"I'm excited to showcase our new products, such as our TP80 Fast Picker and state-of-the-art offline programming software, SRS 2013. We'll also be demonstrating our VAL software suite for dedicated industries," said Florian Vie, Robotics Application Engineering Manager.
Connectors: The leading provider of quick connection solutions worldwide, Stäubli Connectors continually raises the bar on safety and reliability. Attendees will have the chance to explore a broad range of advanced connection solutions for fluids, gases and electrical power.
Multi-Contact: An electrical connector manufacturer using advanced contact technology. Our products consistently rate high in performance even under the harshest conditions and are used in test & measurement, medical technology, power distribution, automation and renewable energy systems.
"This is a great opportunity for Stäubli to highlight current products as well as demonstrate new technologies that will revolutionize the market. The event will bring awareness to the unique products we offer, and illustrate how Stäubli can be a critical part of the customer's solution," remarked Chad Henry, Stäubli Robotics Sales Manager.
Technology experts will be available to answer questions and help attendees make the most of the experience. Both Stäubli and Multi Contact's management team will also be on hand to address business development opportunities and answer technical questions. Those interested in attending are encouraged to contact Joan Harriman at techdays.usa@staubli.com or 864-486-5434, or register online at www.staubli.com/techdays. Event details including a full list of seminars can also be found atwww.staubli.com/techdays.
Joan Harriman 864-486-5434 or 864-433-1980 techdays.usa@staubli.com
About Stäubli:
Stäubli is a mechatronics solutions provider with three dedicated divisions: Textile Machinery, Connectors and Robotics. With a workforce of 4000, Stäubli has a presence in 25 countries and agents in 50 countries around the world. For more information, visit www.staubli.com.
Stäubli's North American headquarters is located in Duncan, South Carolina and has over 200 employees supporting Textile, Connectors and Robotics customers, with a dynamic sales force strategically placed on the West Coast, Canada, Mexico, and elsewhere throughout the continent. For more information, visit www.staubli.us
Featured Product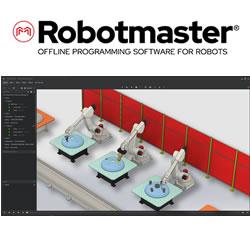 Since Robotmaster V7 uses integrated CAD/CAM functionality, for the first time, the power of Robotmaster can be used by welding, cutting and other process experts without buying or learning complex CAD/CAM software. As in past versions, Robotmaster V7 imports paths, but now makes it even easier for end users to leverage any CAD/CAM tool choice. It is an intuitive tool that anyone could use, with or without robotics expertise. It bridges the gap between robots and manufacturing by providing easy programming solutions for part manufacturing.