Demonstrations to the community will be scheduled for spring of 2014.
Quincy, MA, USA-17 September 2013- Bluefin Robotics, a leading provider of Autonomous Underwater Vehicles (AUVs), announced today that the company has added the L-3 Klein UUV-3500 Side Scan Sonar to its growing list of vehicle payload offerings. The integration effort was internally funded to support company initiatives to expand sensor options and continue to provide state-of-the-art technology to the market. The L-3 Klein UUV-3500 sonar is one of several next-generation, compact digital sensors available on Bluefin vehicles that provide both side scan sonar and interferometric bathymetry data particularly suited for mine countermeasures applications.

Klein Data Samples"We are pleased to offer new payload options to the community," said David P. Kelly, President and CEO of Bluefin Robotics. "The combination of our vehicle stability and navigation capability, along with the sonar's exceptional imagery makes for a very high-quality tool for our customers."
In 2012, the Ocean Technology Lab at the University of Victoria first integrated the sonar on a Bluefin-12 by utilizing Bluefin's standard payload interface. Their team conducted successful demonstrations and survey work in Canadian Arctic and provided valuable feedback to both Bluefin and L-3 Klein regarding system level performance.
Demonstrations to the community will be scheduled for spring of 2014.
ABOUT BLUEFIN ROBOTICS
Bluefin Robotics designs, manufactures and operates Autonomous Underwater Vehicle (AUV) systems and related technology. Founded in 1997, the company has grown to become a world leader in AUV products designed for defense, commercial, and scientific applications. Bluefin Robotics is a wholly-owned subsidiary of Battelle. For more information, please send your inquires to sales@bluefinrobotics.com or visit www.bluefinrobotics.com.
Featured Product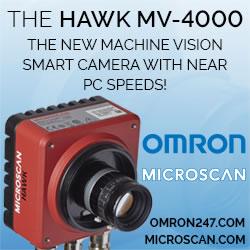 Awe-inspiring power and superior flexibility is sheathed within the contoured casing of the HAWK MV-4000. This smart camera builds upon the previous generation by quadrupling processing power and achieving real-time trigger response using an FPGA. Its state-of-the-art algorithms make it an excellent tool for any industry, whether the requirement be code reading, code verification, inspection, guidance, gauging or a combination of all four.