Rinco's technology allows for seals anywhere from 2 to 25 mm
Las Vegas-Rinco Ultrasonics is well-versed in the design and manufacture of ultrasonic bonding and cutting machinery to weld plastic components and to cut food products. But a few years back, the company asked itself: Why not get into flexible packaging?

"We saw an opportunity in flexible where we can do [seal technology] better," Gordon Hull, managing director of Rinco Ultrasonics, told PlasticsToday. "We believe we have created a new market for pouches."
Hull said that Rinco's PPS0145 film-sealing technology has significantly expanded what is possible in ultrasonic film sealing. The technology permits seal patterns with a greater surface area and allows the production of contour-shaped seals, as opposed to the more traditional straight-line seals. The seals can take almost any configuration, which Hull said is a key way for brand owners to differentiate their products from the competition. This patented seal geometry also eliminated any film or pouch slipping.
At Pack Expo (Sept. 23-35; Las Vegas), Rinco showcased some of the companies utilizing its pouch-sealing technology, including beverage-giant Gatorade as well as the startup FrozenPeaz, which produces flexible packs for hot and cold therapy to relieve pain and assist in recovery from minor injuries or post-surgery rehabilitation.
Rinco's technology allows for seals anywhere from 2 to 25 mm. In addition, the ultrasonic seals don't require follow-up heat sealing, which can expand the amount of applications that use the material.
Rinco has determined that its interlocking pattern can provide a 20% stronger bond compared to other ultrasonic seals. To further enhance the aesthetics of the bond, Rinco has recently developed the ability to emboss a design or logo into the seal area. Designs and logos are achieved by simply relieving an area of the seal pattern.
"We can weld almost anything-synthetic oil, cheese, liquid food, fish oil-what have you," Hull said.
Rinco announced the company has expanded its line of FPA series ultrasonic pouch-sealing systems. The new FPA 4500-T model, which features seal bonding of pouches up to 155-mm wide, has several upgrades including a single access panel for easier serviceability and a wash down resistant coating. The FPA 4500-T has an IP67 rating and meets food-contact regulations.
Another improvement to the machine is the reduction in the overall width of the unit down to 7.73 inches compared to the previous 11-inch width.
The FPA series actuators are designed specifically for the packaging industry as a drop-in retrofit to convert healing sealing stations to ultrasonic sealing stations. Rinco manufactures the FPA 4500-T, and other FPA series ultrasonic pouch-sealing systems, at its Danbury, CT facility.
"Customers, like big Fortune 500 companies, are now coming to us to learn about the pouch-sealing technology," Hull said. "If I sound excited, it's because I am-this is one of the most exciting technologies I've been a part of."
Featured Product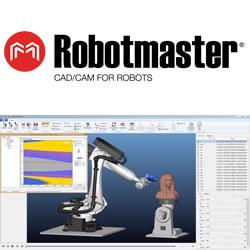 Since Robotmaster V7 uses integrated CAD/CAM functionality, for the first time, the power of Robotmaster can be used by welding, cutting and other process experts without buying or learning complex CAD/CAM software. As in past versions, Robotmaster V7 imports paths, but now makes it even easier for end users to leverage any CAD/CAM tool choice. It is an intuitive tool that anyone could use, with or without robotics expertise. It bridges the gap between robots and manufacturing by providing easy programming solutions for part manufacturing.