Discover innovative packaging solutions from KUKA Robotics in booth #5133 at PACK EXPO Las Vegas, September 23rd - September 25th 2013
PACK EXPO 2013

SHELBY TOWNSHIP, Mich. & LAS VEGAS--KUKA Robotics will exhibit among 1,750 world-class industry suppliers at PackExpo Las Vegas in booth 5133. Pack Expo is North America's largest packaging and processing show.
KUKA Robotics will host in-booth solutions showcasing the family of small robots the KR AGILUS. The KR AGILUS Family offers high speed accuracy, short cycle times, 5 or 6 axes, 6 or 10 kg payloads in 3 different arm reach lengths with mounting positions of floor, wall or ceiling. All of the KR AGILUS family is operated using the KR C4 controller the universal control technology from KUKA. In a food handling demonstration the KR AGILUS KR6 R700 sixx will simulate bakery tray filling. The KR6 R700 sixx has a 6kg payload with a 700mm reach and will be utilizing all six axes. Demonstrating high speed flexible case packing will be a KR6 R900 sixx having a 6kg payload with a 900mm reach, also utilizing all 6 axes. All happening as the powerfully quick KR 180 PA palletizing robot will be lifting the KUKA brand to new heights! See video of KR AGILUS here.
In a robotic solution created and provided by Official KUKA Robotics System Partner FleetwoodGoldcoWyard will showcase a Robotic Rainbow Pallet System. The KR 470 PA will select layers from two donor pallets of different product to create a mixed pallet using mxAutomation. mxAutomation is a software package from KUKA Robotics that allows full control of KUKA robot motion via an external PLC that communicates with the KRC4 robot controller.
Monday September 23rd from 3:00-5:00pm, KUKA Robotics will be hosting Robots, Wine and Cheese, an in-booth reception to allow customers one on one time to interact with KUKA packaging experts.
The KUKA Robotics System Partner network is designed to mutually benefit each organization's users by extending the way customers can acquire tailored solutions with the major competitive and technological advantage of high precision KUKA robots. The KUKA Robotics System Partner Network includes experienced OEM machine builders, system providers, application specialists and expert robot integrators.
About the KUKA Robot Group
KUKA Robotics Corporation along with KUKA Roboter GmbH, Augsburg Germany (part of the KUKA Aktiengesellschaft group of worldwide companies), ranks among the world's leading suppliers of industrial robots and material handling vehicles. Core competencies include the development, production, and sale of industrial robots, controllers, software, linear units, and omniMove™ omni-directional motion platforms. KUKA robots are utilized in a diverse range of industries including the appliance, automotive, aerospace, consumer goods, logistics, food, pharmaceutical, medical, foundry and plastics industries as well as multiple applications including material handling, machine loading, assembly, packaging, palletizing, welding, bending, joining, and surface finishing. KUKA robots range from 5kg to 1300kg payloads, and 635mm to 3900mm reach, all controlled from a common PC based controller platform. The company is the market leader in Germany and Europe and the number three in the world. KUKA Robot Group employs about 3180 people worldwide. In 2012, sales totaled 742,6 million Euro. 25 subsidiaries provide a presence in the major markets of Europe, America and Asia.
Featured Product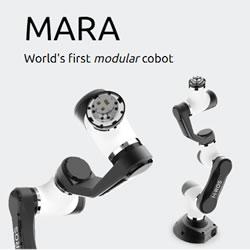 Built out of individual modules that natively run ROS 2.0, MARA can be physically extended in a seamless manner. The modular robot arm delivers industrial-grade features such as a high-speed real time enabled ROS 2.0 communication interface, security protections or a hardware power lifecycle.