Knighted WMS, WCS and LMS software customers now have access to expanded 24X7 technical support services from Intelligrated
(CINCINNATI: Oct. 1, 2013) - Intelligrated® (www.intelligrated.com), a North American-based automated material handling solutions provider, announces the integration of its technical support services for Knighted® (www.knightedcs.com) software customers. Intelligrated's Customer Service & Support team now offers 24X7 single-source support for Knighted Vision warehouse management (WMS), WCSPlus® warehouse control (WCS) and GoalPost® labor management (LMS) software customers with expanded technical support contracts.

Knighted software technical support inquiries are now handled through Intelligrated's customer support hotline: 1.877.315.3400. This hotline connects customers to a team of knowledgeable and highly-trained Intelligrated and Knighted customer support engineers.
Knighted customers with expanded technical support contracts can now also access Intelligrated's Customer Service & Support Dashboard™, an online incident management portal that provides visibility for all technical support interactions.
"Intelligrated and Knighted are well-positioned to provide unique, fully-integrated fulfillment execution solutions to satisfy the demands of fast-paced multi-channel distribution and fulfillment environments," said Greg Cronin, executive vice president, Intelligrated. "By integrating Knighted software into Intelligrated's technical support services, our combined solutions are backed by 24X7 coverage from a single, responsive source."
For sales and marketing information, contact Emily Smith, marketing supervisor, Intelligrated, by phone at (513) 881-5239 or by email at emily.smith@intelligrated.com.
For media information, contact Natalie Fioto, public relations, Koroberi, at (919) 945-0566 or by email at natalie@koroberi.com.
###
About Intelligrated
Intelligrated® (www.intelligrated.com) is a leading North American-based, single-point provider of automated material handling solutions with operations in the U.S., Canada, Mexico and Brazil. Headquartered in Cincinnati, Intelligrated designs, manufactures and installs complete material handling automation solutions, including conveyor systems, IntelliSort® sortation systems, Alvey®palletizers and robotics, Real Time Solutions® order fulfillment systems, warehouse control software and advanced machine controls-all supported by 24X7 Customer Service and Support.
Through its NY-based subsidiary company, Knighted® (www.knightedcs.com), Intelligrated offers web-enabled logistics software for today's supply chain operations including warehouse management software (WMS), warehouse control software (WCS) and labor management software (LMS).
Serving the warehousing, distribution, consumer product manufacturing, postal and parcel markets, Intelligrated collaborates closely with its clients to develop productivity solutions and support their needs throughout the life of their material handling systems. For more updates, follow us on Twitter @Intelligrated.
Featured Product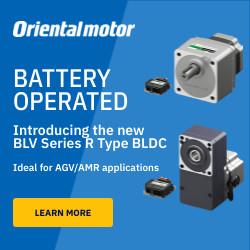 The BLE2 Series replaces our popular BLE Series and continues our brushless motor advantages by featuring an all new compact, high-power and high-efficiency brushless DC motor combined with a Driver that can be digitally set and controlled via external DC voltage or by the front panel. The BLE2 Series can easily compete with larger 3-phase inverter driven motors in many more applications, with built-in simple holding torque function, saving space and increasing performance thanks to the advantages of a brushless motor design. The BLE2 Series has a maximum speed of 4000 r/min, achieving a speed ratio of 1:50 (80 to 4000 r/min). The new motor structure is small than previous models and enables high power and high efficiency while incorporating easy setting, installation and wiring. The new motor connector offers IP66 degree of protection and allows for easy and direct connection between motor and driver with two available orientation of cable outlet direction. Standardized use of stain