Until now, clean room robots were used in high vacuum operation for the coating of glass plates. A low-cost alternative is now available in the form of the infinitely variable telescopic handling system "sliding fork" from Festo.
Glass with a thickness of 4 mm is fed into different process chambers and coated during the front-end production of thin-film solar cells. This process area is under high vacuum and subject to temperatures of approx. 200°C. Special clean room robots are traditionally used to transport the coated glass plates from one process chamber to the next.

A low-cost and compact alternative to these robots is the infinitely variable telescopic handling unit "sliding fork" from Festo: the telescopic principle with triple transmission ratio offers jerk-free stroke movement to 2,100 mm with an electric spindle drive. The installation space corresponds to the workpiece size. The atmospheric box (ATM) which is encapsulated against vacuum, includes an electric motor, gear unit, and the vacuum rotary union (spindle bearing).
The SFU is stable even at weights over 10 kg. Special glass supports prevent marks on the glass plates. The installation space corresponds to just the workpiece size. Infinitely programmable intermediate stops are possible. The sliding fork unit has zero leakage.
About Festo
Festo is a global player and an independent family-owned company with its headquarters in Esslingen am Neckar, Germany. The company supplies pneumatic and electrical automation technology to 300,000 customers of factory and process automation in over 200 industries. Worldwide, Festo's 16,200 staff in 61 companies generated a turnover in 2012 of some € 2.2 bn. Each year 9% of this turnover is invested in research and development. Festo supplies around 30,000 catalogue products in several hundred thousand variants and some 10,000 tailor-made customer solutions each year to customers in 176 countries all around the world. In this learning company, 1.5% of turnover is invested in basic and further training. Yet training services are not only provided for Festo's own staff - Festo Didactic GmbH also supplies basic and further training programmes in the field of automation technology for customers, students and trainees.
Featured Product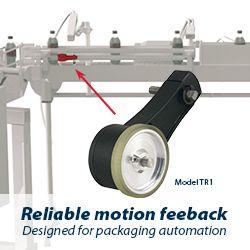 EPC is excited to announce our NEW online 3D Configurator. This new tool makes it even easier to configure EPC's products exactly how you need them for your application. The 3D Configurator interface is intuitive and works in any web browser for both desktop and mobile. It'll only take you a moment to learn your way around the program. Careful, though: it's so fun to play with, you may spend a whole afternoon on it!